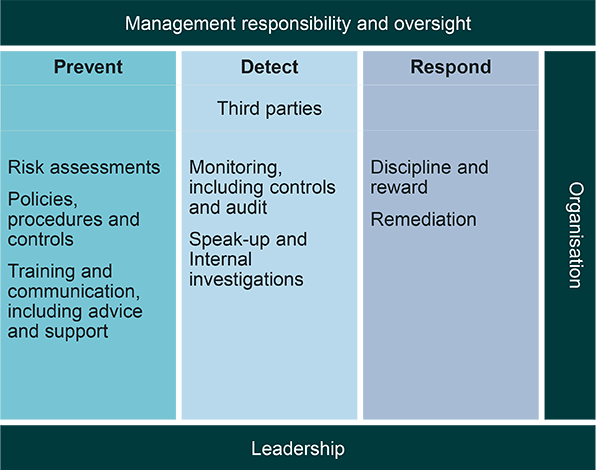 Our Ethics and compliance framework is guiding the practical implementation of our Code of Conduct. The framework is based on best practices laid forth in internationally recognised guidance such as US Sentencing Guidelines and UK Bribery Act Adequate procedures. The framework is founded upon our Leadership - the ultimate purpose of the compliance framework is to guide the decision makers and ensure that the decisions also include the aspects of ethics and compliance. Sometimes this may even mean saying no to business deals with a lack of transparency. And sometimes the decisions involve disciplining and dismissing employees that have violated our Code of Conduct. We can have policies and procedures and e-learnings, but if there are no impact on the business decision and if it is not part of the daily leadership it will not have a long-term impact.
The ultimate purpose of the framework is to prevent, detect and remediate actual or perceived breach of our Code of Conduct. The preventive work consists of visiting our units and doing various forms of risk assessments, having clear policies and procedures and ensuring awareness of these throughout various training and communication initiatives. We require all employees to participate in a basic training of our Code of Conduct, either through e-learning or face-to-face trainings. In addition, we arrange face-to-face training workshops on selected topics, such as anti-bribery and corruption, for employees in key risk positions.
To ensure that we detect misconduct we have included a set of compliance related controls into our internal control framework, these relate to e.g. sales agents, key risk service providers, gift and hospitality as well as cash reimbursements, and expense control. We also provide various channels for raising concerns such as an externally hosted Speak-Up channel enabling anonymous and confidential reporting. Cases can also be raised directly to the E&C team via a common mailbox or direct contact. External parties can also use these channels: see contacts and Speak-Up. We take concerns of misconduct seriously and will investigate them according to our Code of Conduct case response process.
A central element of our ethics and compliance framework is ensuring adequate response including remediating the root causes for misconduct through e.g. the implementation of revised policies, processes and controls. The response also includes disciplinary measures such as Code of Conduct discussions, written warnings and dismissal.
Organisation
The Ethics and compliance organisation is responsible for the design of the framework as well as support and guidance. This work includes e.g doing site visits and risk assessments, drafting policies and procedures, arranging trainings, conducting investigations as well as supporting management in the response and remedial process.
Management oversight
The ethics and compliance work is monitored through the Code of Conduct panel of the Cargotec Leadership Team (CLT) and the Audit and Risk Committee of the Board. The Code of conduct panel is a monthly forum, held in conjunction with the CLT meeting. The VP Ethics and compliance is reporting the status of the Code of Conduct cases, the panel is discussing and monitoring disciplinary and remedial measures. The Audit and Risk Committee receives an update on ethics and compliance at least on a quarterly basis. The full board is receiving an update on ethics and compliance at least once a year.
SpeakUp line
Our SpeakUp line can be used for reporting concerns of Code of Conduct violations. The SpeakUp line allows for anonymous reporting. More information and links to the service can be found here.