Hiab in 2022 – a record year despite challenges
Hiab's business development was positive in 2022. The Hiab year resulted in record scores in sales and orders received, and the comparable operating profit margin was over 14 percent. Supply chain challenges persisted from the previous year.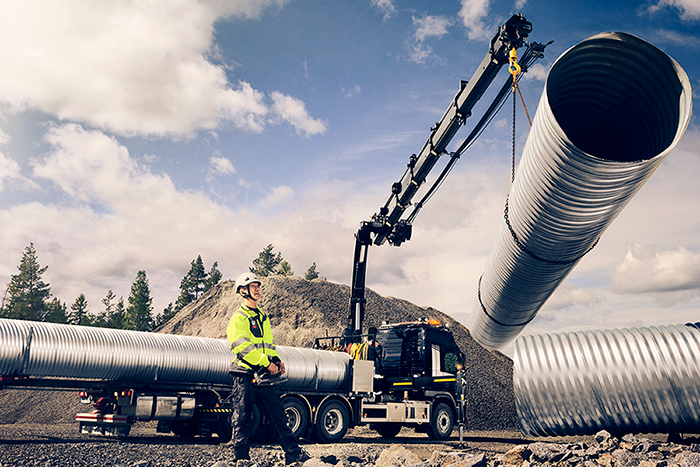 Hiab's orders received in 2022 ended at over EUR 1.8 billion, increasing by 5 percent from the previous year. Sales were up by 26 percent, roughly EUR 1.6 billion, which was another Hiab record to mention. The comparable operating profit increased by 35 percent from the previous year to EUR 224 million. A solid order book of about EUR 1.2 billion provides a good starting point for the year 2023.
"We were able to perform better year-over-year in 2022 versus 2021. We were able to reduce our safety related incidents significantly by more than 30 percent. And then, of course, we had a nice year-over-year growth in top line and bottom line. So really pleased overall with the results in 2022," says Scott Phillips, President of Hiab.
Cooperation with customers and partners eased challenges in a volatile market environment
The demand for Hiab solutions is affected by the development of the global GDP per capita. According to the recent World Bank report, the global economy grew by 2.9 percent in 2022, and in the advanced economies group with several key market countries, such as the United States, the United Kingdom and Germany, the growth in 2022 was 2.5 percent. The growth projections are lower compared to the World Bank's previous outlook.
"We had a higher-than-expected inflationary environment and a more-challenging-than-anticipated supply chain situation. As a consequence, it was quite a challenging year to match up our solution with the truck chassis and then ultimately hit the delivery dates for the end customers."
"Despite all those things, we still had a record level of sales and in the second-best year ever on order intake. So overall, against the backdrop of uncertainty and high levels of volatility, underlying market demand and drivers were still strong," says Scott Phillips.
Hiab promoted sustainable solutions in 2022
Hiab launched a record amount of new products in 2022. Many if not all of these feature sustainability benefits, supporting Hiab customers to elevate their sustainability ambitions by enabling less emissions, less noise, or by having more environmentally friendly raw materials in use. As an example, Hiab is the first truck mounted forklift manufacturer with a complete lineup of electric battery powered models available to its customers. This is something that puts Hiab years ahead of the competition.
"We had by far a record year of new product launches. These were all connected to our mission to differentiate with regards to safety, productivity, sustainability and deliver the best lifecycle support to our customers," notes Scott Phillips.
Cargotec's eco portfolio consists of products and services that enhance customers' sustainability with tangible environmental benefits. In 2022, Cargotec's eco portfolio sales increased by 54 percent compared to the previous year. Hiab's eco portfolio offering and its increased sales promoted the overall success of the eco portfolio.
"We were able to increase the sales of our eco portfolio by 2.5 times, as a percent of our overall revenues, which keeps us in line with delivering on our mission to meet the sustainability science-based targets by 2025 and 2030."
Hiab will continue to stay true to its mission
With its personnel and partners, Hiab is committed to delivering the best customer experience every day. This is the ambition Hiab will continue with in the future as well.
"We strive to enable our customers to have the industry's highest level of safety with regard to the people, equipment and environmental interfaces. For this, we want to provide equipment that is both flexible as well as allows ease of use in order to improve productivity", says Scott Phillips.
"Also, we want to provide equipment and overall solutions for our customers which helps them reduce their overall CO2 footprint and intensity of that footprint, whether it's direct footprint or handprints."
"And finally, we want to provide the industry's leading life cycle services so that we can manage most effectively, together with our partners and customers, the availability and uptime of the equipment solutions that our customers have available to them," concludes Scott Phillips.