Seamless collaboration across the organisation during the pandemic
Across the globe, the coronavirus pandemic created unprecedented disruption for companies during 2020. Mikko Pelkonen, Cargotec's head of HR, says that clear communication and long-term investments in leadership and platform development have helped deliver a competitive advantage and made the company more crisis resilient.
The coronavirus crisis has prompted Cargotec to implement urgent and decisive actions — particularly in the second quarter of 2020 — to protect the health and livelihoods of about 12,500 employees in over 300 locations across 50 countries. While dealing with the ongoing pandemic continues to be an immense challenge on multiple levels, it's also a story that focuses on the company's successful response to the global disruption.
Mikko Pelkonen, Senior Vice President, Human Resources at Cargotec, was deeply involved in the critical decision-making process throughout the entire year.
"We started managing COVID-19 when it was present only in Wuhan as we have operations in China. That's when we began to anticipate the future," says Pelkonen.
"When we started getting a really strong signal that the pandemic was going to hit and that this was going to be a major crisis, we immediately set about building scenarios here at Cargotec so we could implement measures to counteract it."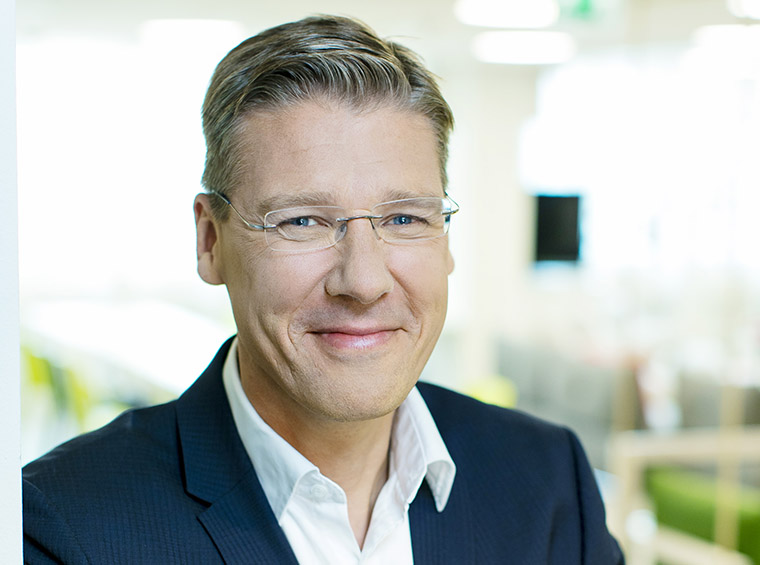 Mikko Pelkonen, Senior Vice President, Human Resource
Putting safety first by empowering local management
From the onset of the outbreak, the number one priority for Cargotec was about keeping people safe. It was also very clear that they could not manage everything from the head office in Helsinki.
To help implement safety procedures in the most efficient way possible, the earliest moves focused on first empowering local management and HR teams to understand the situation on the ground. This would allow management to draw conclusions based on guidance from their individual national governments and local health authorities, and to give them the prerogative to act accordingly. According to Pelkonen, it needed to happen locally as it was an equation with a huge number of variables.
"In many cases, we knew of different instructions coming from different cities, so everything had to be as local as possible. It was all about collaboration and enablement rather than control. We never tried to do a 'one-size-fits-all' global guideline. Rather we had a process through which local teams were empowered, and that was the right thing to do," he explains.
During the early phase of the outbreak, when it was most serious, Cargotec also managed to close offices and move people to remote work in all its locations around the world. As a result, none of the personnel or their safety was jeopardised because they were forced to come to the workplace, or because the company failed to provide a policy that allowed them to work remotely. These concrete actions were primarily made at local level and continue to be implemented locally.
Unity during an intense management situation
For Cargotec's HR leadership team, the situation took on a new level of intensity when the World Health Organization formally declared the COVID-19 outbreak a pandemic. The evolving crisis very quickly became a hands-on management situation, both from the global and business points of view.
"Collaboration and communication, then the alignment in terms of what we were trying to do, was required. Nobody questioned if we needed it—we just got it done. There was this sense of unity in that everybody just knew what needed to happen. While HR was driving and facilitating it, everybody was on board, everybody participated," shares Pelkonen.
Implementing temporary cost savings measures
The other critical task was to manage the financial response. Cargotec had to introduce temporary savings measures and, in retrospect, did so in record breaking time. Bold decisions needed to be made to help cushion the negative financial impact caused by the pandemic. After the HR team crunched the numbers, 6,000 personnel were placed on a four-day work week. This task was implemented within a two-week window.
As Pelkonen points out, enacting these steps involved a massive communication effort as well as extensive employee representative negotiation procedures in all of Cargotec's locations. "The majority of our white-collar employees were temporarily laid off for us to contain the crisis. Once things started to normalise towards the summer, we started to return people to the normal five-day work week."
Solidarity while safeguarding financial continuity
Likewise, all Cargotec executives — around 200 in total including the CEO — signed an act of solidarity letter where they committed to reduce their pay by 20 percent for an unlimited time. Throughout the entire company, salary increases were put on hold as was the annual salary review, normally negotiated every spring. By being more prudent with its resources, Cargotec consequently managed to minimise or limit the permanent saving actions, including what would have led to a headcount reduction and major restructuring activities.
"This tells you something about the spirit of the company and the fact that everybody who participated can be proud of being part of this journey," says Pelkonen.
Gathering honest feedback to gauge the company's pulse
Throughout the year, the HR team also considered it essential to take into account honest and transparent input from employees. To that end, the company conducted a regular Pulse survey to check the organisation's health.
"The Pulse survey was very meaningful, but it wasn't always rosy. There was a lot of anxiety as expected, but it also helped us to identify and map out areas that needed special attention," Peltonen admits.
IT operations enabled global implementation and local flexibility
For Cargotec, company-wide collaboration characterised both its pandemic response and the HR team's work. The enablers of much of this were the platform investments the company had been able to put in place across recent years. This included Connect, the common communication platform, as well as Cargotec Business Service (CBS), an internal platform that currently links around 80 percent of the company's global workforce.
"The whole IT infrastructure held up really well and we managed to virtualise the whole operation quickly. We managed to take the best of both worlds: the power of the CBS platform and the ability to implement things globally, and then the flexibility coming from the local team to deal with the reality on the ground," says Pelkonen.
A positive perception despite unpleasant challenges
The employee engagement at Cargotec was up by nearly six percent during 2020. In Pelkonen's perspective, a combination of leadership and transparent communication throughout this crisis was the key that would explain this.
"It was not pleasant, and nobody liked doing it, but exceptional times call for exceptional and respectful measures."