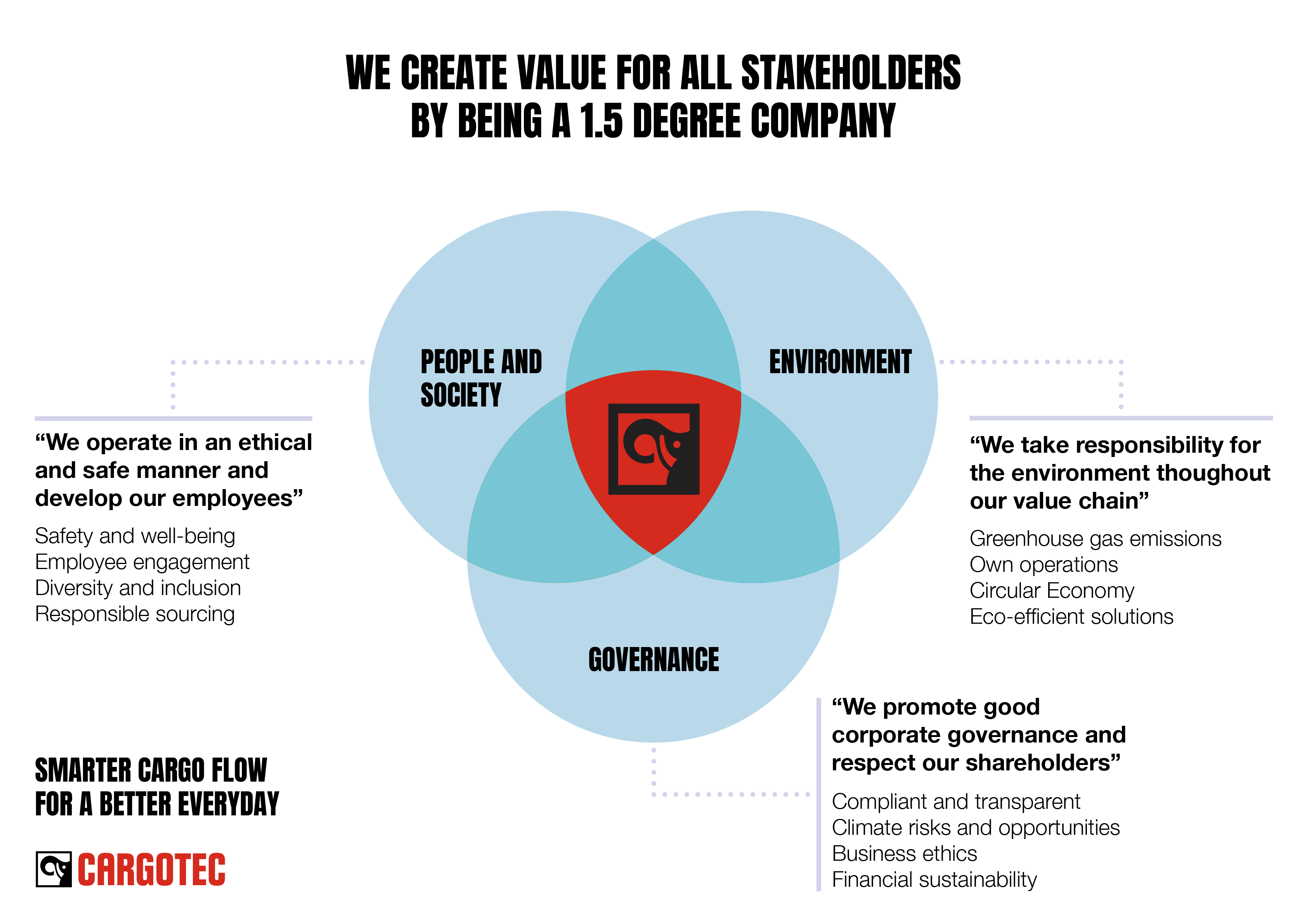 Cargotec's sustainability work is based on a holistic and balanced approach, taking into account the aspects of environment, people and society, and governance. By being a 1.5 degree company, we strive to create value for all stakeholders. We sense the urgency of climate action and consider the transformation towards a sustainable world as a major phenomenon that will change the whole industry.
We support transformation into a fair and prosperous society. With the purpose - smarter cargo flow for a better everyday - we drive resource efficiency in our industry, in order to reach a low-carbon economy and thus turning the environmental challenges into opportunities. Our climate ambition can only be achieved via inclusive cooperation with all the participants in the value chain and the COVID-19 pandemic has only highlighted the importance of partnerships. Making the transition just and inclusive for all ties the social and good governance aspects into our climate ambition.
During 2020, sustainability has become a higher priority than ever before. We have worked intensively on our climate ambition to align our operations with the most ambitious goal of the Paris Agreement. The consequences of climate change are not only environmental, but there are also significant financial and social impacts. To ensure financial stability and global wellbeing also for the future generations, it is our obligation to act on climate now.
We take responsibility for the environment throughout our value chain
Climate change and greenhouse gas emissions is our key focus area within the environment theme. The logistics industry is causing a significant share of the global emissions. At Cargotec, this challenge is actually perceived as a business opportunity. Manufacturing products and technologies that enable avoiding or reducing greenhouse gas emissions in other sectors (logistics sector, for example) is pivotal in the transition towards a low-carbon economy. Cargo handling solutions are essential in ports, on vehicles and on vessels. As a continuous cargo flow secures wellbeing, our products and solutions are necessary to keep modern society running. Cargotec has a great potential to support its customers to reduce their emissions. Moreover, our intelligent solutions are an enabler for a wider societal change towards a more circular economy. 
Cargotec's eco portfolio consists of eco-efficient solutions that enhance customers' sustainability with tangible environmental benefits. Read more about our eco portfolio here.
We operate in an ethical and safe manner and develop our employees
We realise that successful and sustainable business is not only about what we do but also about how we do things. Safety and ethical conduct are high on our agenda. Cargotec is dedicated to protect the safety and wellbeing in all our operations and also through our products, services and solutions. Safety being our priority became evident also during the COVID-19 pandemic when all possible measures were taken to keep the employees safe. We want to operate in an ethical manner and take concerns of misconduct seriously. We promote a speak-up culture and awareness of the reporting channels, including the Speak-Up line, through a variety of means.
We are a knowledge and engineering company, and our employees are an integral part of our competitiveness. We trust our people are the key in creating customer-value through innovation, experimentation, learning and adapting new skills in a complex and ever changing world. We provide employees with suitable training e.g. via the new LEARN platform.
We promote good corporate governance and respect our stakeholders
We consider good governance practices, including efficient risk management processes, the foundation for conducting business. The integrity culture of Cargotec starts from the top management. The spirit of our compliance work is best captured by the words integrity and transparency. Most important of all, the value of integrity— the quality of upholding strong moral principles—has become part of Cargotec's culture through strong management commitment.
Cargotec signed the UN Global Compact in 2007. The Global Compact is a call for companies to align their strategy and operations with ten principles on human rights, labour, environment and anti-corruption. The UN Global Compact is advancing the business contribution on Sustainable Development Goals (SDGs). SDGs are a set of 17 goals that target achieving prosperity for the people and the planet by 2030. Companies have an important role to play since the goals cannot be reached with the actions of the public sector alone. We firmly believe that with our ambition of being a leader in intelligent cargo handling, we are in a position to advance especially the six goals marked on the right (add logos: SDGs 8, 9, 12, 13, 16, 17).