Our sustainability work and targets support our strategy. These are the highlights and targets of our sustainability work in 2020.

Safety
The Industrial Injury Frequency Rate (IIFR) for Cargotec assembly sites was 3.4 in 2020 and we managed to achieve our target of 5 for the year. We were able to bring the rate down at many of our assembly sites, with about 40 percent of them achieving IIFR zero levels. Kalmar and Hiab assembly sites have performed exceptionally well, achieving an IIFR of 1.7 and 4.6, respectively.
We have set a new IIFR target for 2021 to have a rate below 5 across the whole organisation, now also including the non-assembly units. We promote high safety levels and work continuously towards zero accident level in all our operations and also through our products, services and solutions. 
The challenging situation with the outbreak of the COVID-19 pandemic has had an effect both on our assembly and business processes. It has brought additional complexity to the safety management and practices. Extra measures have been put in place and we have followed the WHO recommendations and local legislations to ensure the health and safety and wellbeing of our personnel. For example, we have strictly followed the physical distancing recommendations, keeping rooms ventilated, not using the full capacity of our premises, avoiding crowds, cleaning hands regularly and adapting our assembly processes to the new situation. An array of additional preventive measures have been deployed such as limiting the access of external guests, applying work from home policies, providing additional personal protective equipment and guidance for the employees and creating special communication channels to provide updates and a convenient way to give feedback  for our employees. There were periods of lockdown and temporary reduction of working time at our assembly sites that have also impacted our safety activities, especially during the second quarter of the year. Overall we were able to ensure the safety of our own employees and have not had major outbreaks of the COVID-19 at any of our sites.
Read how Cargotec improved its safety during the coronavirus pandemic.
Climate ambition
In the beginning of the year 2020 we held the annual strategy event for the top management with climate being the main topic discussed. As a result Cargotec's Board of Directors set our ambition to be a 1.5 degree company and we committed to the UN Global Compact's Business Ambition for 1.5, joining leading companies in a promise to pursue science-based measures to tackle climate change. In August 2020, the Science Based Targets initiative (SBTi) validated and approved our targets to be in line with the latest climate science. 
The breakout of the COVID-19 pandemic slowed down our strategy alignment work temporarily, but despite the challenging situation Cargotec demonstrated commitment to climate actions by signing the "Uniting Business and Governments to Recover Better" statement as part of the Science Based Targets initiative and its Business Ambition for 1.5°C campaign. The statement urges the governments to prioritise a faster and fairer transition from a grey to a green economy by aligning policies and recovery plans with the latest climate science.
To reduce the climate impact of our own operations, we are increasing the share of renewable energy in our operations. At the end of 2020, the share of renewable electricity reached 44 percent out of total electricity consumption in our own operations. Our target for 2021 is to increase the share of renewable electricity to 50 percent and further to 55 percent by 2024. 
Read why Cargotec is measuring its handprint.
read more about our climate ambition here.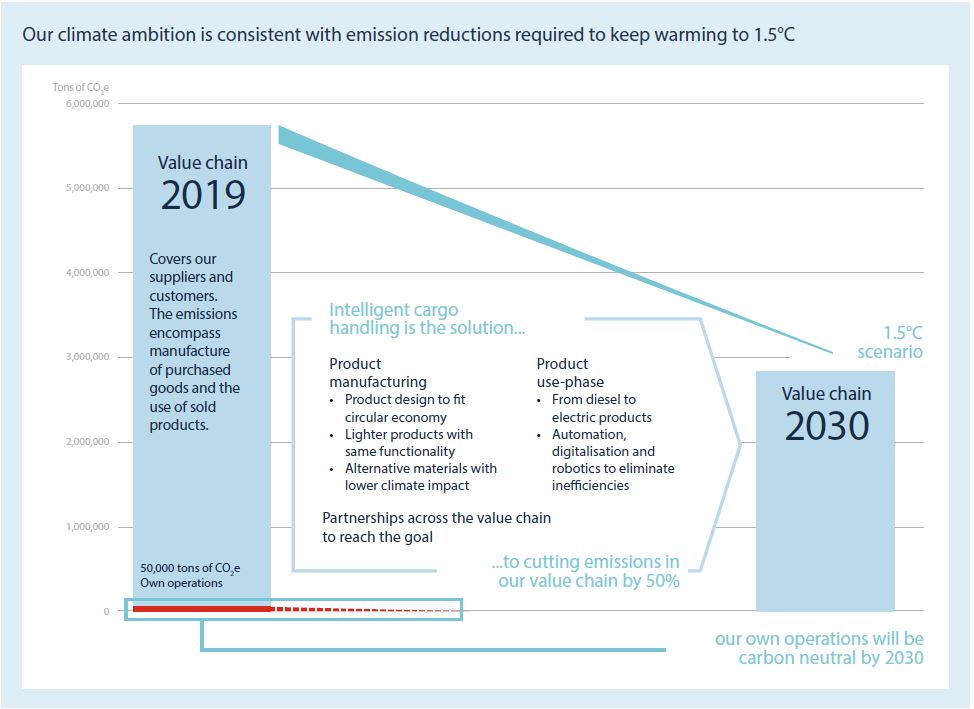 Eco portfolio
Cargotec's eco portfolio was established already in 2017 and it consists of products and services that enhance customers' sustainability with tangible environmental benefits. Mitigating climate change with low carbon solutions for customers is a great opportunity for us. Our target for the eco portfolio for the strategy period 2019-2021 was to achieve double sales growth compared to traditional products. We have met this target set for 2021 already now, ahead of time. Our eco portfolio has performed outstandingly well compared to the traditional products during the COVID-19 pandemic. We have recorded a significant growth in the sales of the eco portfolio when comparing the 2020 sales to sales in 2018, while at the same time, the sales of traditional products have decreased. The eco portfolio sales increased to 24 percent (2019: 21) of Cargotec's total sales in 2020.
Read more about our eco porfolio.
Chemical management and Sourcing
One of our targets for 2021 is to define and implement a global process for chemical risk management. Kalmar has progressed well, they developed and launched a training programme to support the process in 2020. We will continue our work in this area during the next year with a clear focus on establishing and implementing the global process for chemical risk management.
In our sourcing functions, we continued working on our supplier sustainability management programme. We proceeded with the audits of new suppliers against Cargotec's supplier criteria and the focus has been on prioritising the sustainability audit programmes with strategic suppliers. The COVID-19 pandemic has put the focus of the sourcing organisation on ensuring there is no disruption in our supply chain and mitigating potential delivery risks with suppliers. We continued with our risk assessment process and assessing the financial risks in light of the pandemic. With limited possibilities to be onsite, we adapted our process to a combination of self-sustainability audit and online reviews. Activities relating to our supplier code of conduct process continued, aiming to mitigate any risks for breaching international human rights. The code of conduct has been sent out to all new suppliers as part of the onboarding process. 
During 2020 we have maintained a satisfactory level of sustainability reporting at all Cargotec sites. Detailed information can be found in the separate Global Reporting Initiative (GRI) index on our website: cargotec.com.
Targets:

Targets 2020

Performance

Targets 2021

Long-term targets

Define an action programme for managing climate-related risks and opportunities

Cargotec demonstrated commitment to climate actions 

by joining the UN Global Compact Business Ambition for 1.5°C campaign in March 2020.

Target 2024: Reduce CO2 emissions in our value chain from a 2019 base year by 1 million tons

1.5 degree climate ambition with emission reduction target validated by the Science Based Targets initiative. The target is to reduce absolute Scope 1, 2 and 3 GHG emissions 50% by 2030 from a 2019 base year.




Moreover, Cargotec's goal is to become carbon neutral in its own operations by 2030 (scope 1 and 2), which goes beyond the required ambition level of the Science Based Targets initiative.

Audit 50 percent of suppliers that failed the 2019 sustainability risk assessment

Put on hold due to COVID-19 related travel restrictions and 

focus on mitigating delivery risks. The sourcing teams developed a self-sustainability audit and online review process.

Renew the supplier sustainability risk assessment process

 

IIFR <5.0 in assembly

Achieved 3.4 in assembly

IIFR <5.0 in all operations

We promote high safety levels and work continuously towards zero accident level in

all our operations and also through our products, services and solutions.

40 percent of electricity in own operations will be renewable

Achieved 44 %

50 percent of electricity is renewable

100 percent of electricity is renewable by 2030

 
 

Process for global chemical risk management defined and implemented 

 

Target 2021: Offering for eco-efficiency product group to achieve double sales growth compared to traditional products 

Achieved ahead of time. We have recorded a significant growth in the sales of the eco portfolio when comparing the 2020 sales to sales in 2018, while at the same time, the sales of traditional products have decreased. Eco portfolio sales constituted 24 percent of total sales in 2020 (21).

Revise the eco portfolio criteria to align with the upcoming EU Taxonomy regulation