31.08.2020
Cargotec has set ambitious science-based greenhouse gas emission reduction targets to address the impacts of both its own operations and the chain. Those targets have now been officially approved by the Science Based Targets Initiative.
In May 2020 Cargotec announced its commitment to the United Nations Global Compact's Business Ambition for 1.5°C to pursue science-based measures to limit global temperature rise to 1.5°C. The targets were approved by the Science Based Targets initiative on 27 August. That means the targets have been validated and approved to be in line with the latest climate science to limit global warming to 1.5 degrees, which is the most ambitious goal of the Paris Agreement.
The Science Based Targets initiative has validated and approved the target to reduce Cargotec's carbon footprint by 50% across all the three emission scopes (read more about the emission scopes here). Cargotec's goal is to become carbon neutral in its own operations which goes beyond the required ambition level of the Science Based Targets initiative. Moreover, since more than 95 % of the emissions occur in Cargotec's value chain (upstream and downstream activities), setting the 50% reduction target in that area is vital to tackling climate change.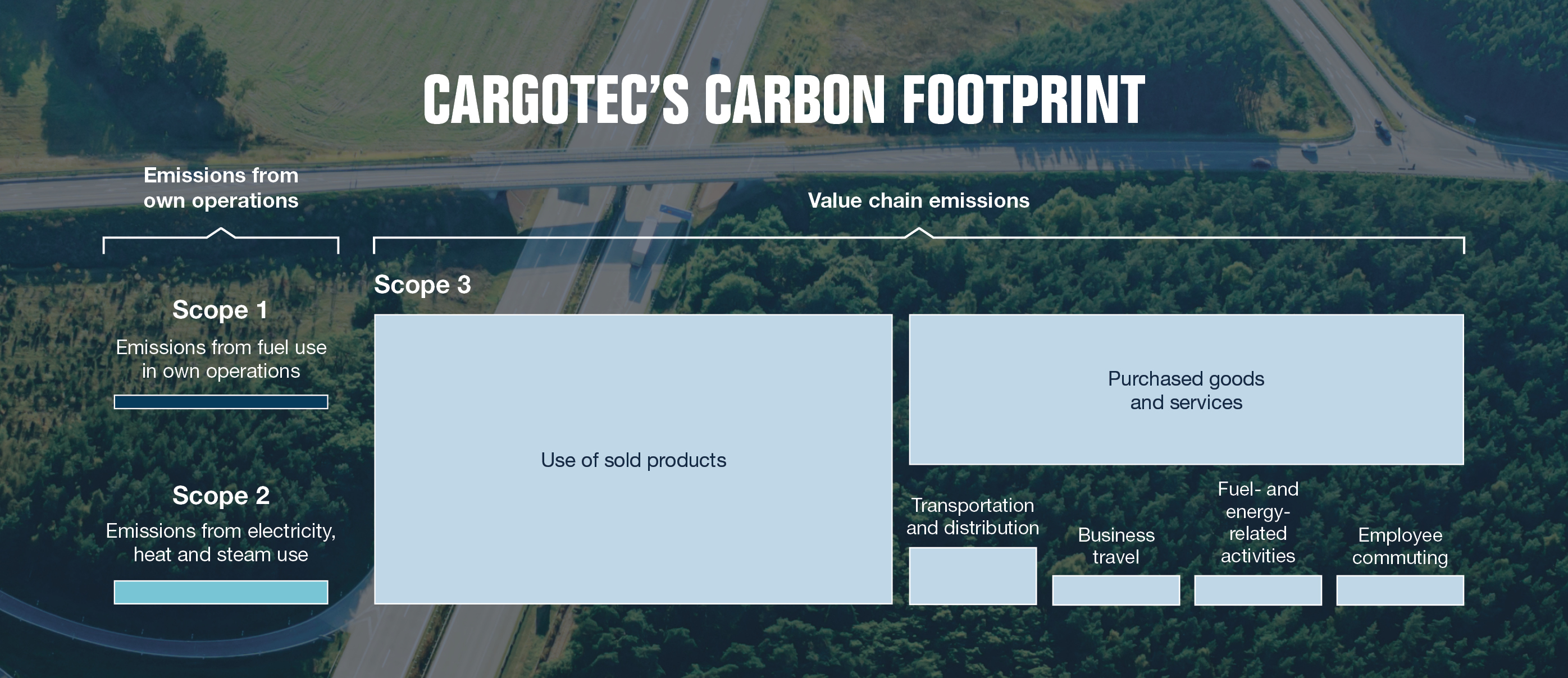 Cargotec's commitment is to reduce the absolute emissions:
Become carbon neutral in own operations by 2030 from the 2019 base year

Reduce the value chain emissions 50% by 2030 from the 2019 base year
We are proud and excited to start this journey and contribute to the global efforts of safeguarding the environment, while at the same time also taking this as an business opportunity to make the logistics industry more efficient and provide solutions and enable a low-carbon economy.
About the Science Based Targets initiative
Science Based Targets initiative mobilises companies to set science-based targets and boost their competitive advantage in the transition to the low-carbon economy. It is a collaboration between CDP, the United Nations Global Compact, World Resources Institute (WRI) and the World Wide Fund for Nature (WWF) and one of the We Mean Business Coalition commitments. The initiative defines and promotes best practice in science-based target setting, offers resources and guidance to reduce barriers to adoption, and independently assesses and approves companies'.