Keeping cargo flowing in crisis conditions
09.09.2020
Across the globe, the coronavirus pandemic has caught countries off guard, effectively stopping economies in their tracks. As authorities continue to impose policies to curtail the spread of the virus, the demand for goods is evolving, putting an emphasis on logistics to keep supply chains moving.
On 30 January 2020, the World Health Organization declared the outbreak a public health emergency of international concern, prompting governments to gradually implement restrictions that would drastically limit the movement of people and goods.
In the first half of the year, authorities began closing borders, imposing lockdown and quarantine measures, and encouraging social distancing. But as economies were disrupted, a significant amount of activity shifted to digital spaces, radically increasing the volume of transactions taking place online.
The wider trend of consumers heading to e-commerce sites to buy items that they would normally have purchased in-store is evidence of an undeniable shift in behaviour. According to Posti, Finland's main postal company and market leader in parcel services, some days in April saw the number of packages they delivered increase by more than four-fold.
Meanwhile in the US, online retailer Amazon reported hiring over 175,000 additional employees to respond to a steep rise in orders in the same month. By mid-May, Walmart attained a 74% surge in online sales in the first quarter, solidifying its position as the US's second biggest e-commerce retailer behind Amazon.
Responding with availability and flexibility
Throughout the globe, essential logistics such as those for food and beverages have remained indispensable, even with continuing lockdowns and social distancing measures. As the world's leading provider of on-road load handling equipment, Hiab experienced first-hand how customers involved in supply chain and food delivery services needed to work at a faster pace to adapt to changes in demand.
Hiab's key spare parts distribution centres serving Europe and the US from Metz, France, and Indiana, US, remained in operation even at the height of the pandemic. When European governments began easing restrictions in early May, nearly all of the company's mass assembly units and sales offices reopened. 
For Hiab, keeping critical logistics flowing has also meant producing and dispatching replacement equipment even more rapidly to prevent interruptions at a time when some customers' businesses have been busier than ever. 
In the case of Kalmar, a number of new services were initiated to help businesses that handle cargo at ports to protect the immediate health and safety of their employees. Among these is sanitising customers' machinery between shifts, regardless of brand.
"Our customers are global trade's gatekeepers. They are the ones that keep the whole world up and running," commented Stefan Lampa, President of Kalmar Mobile Solutions, recognising the vital role that ports, terminals, distribution centres and heavy industry play in keeping cargo on the move during the crisis.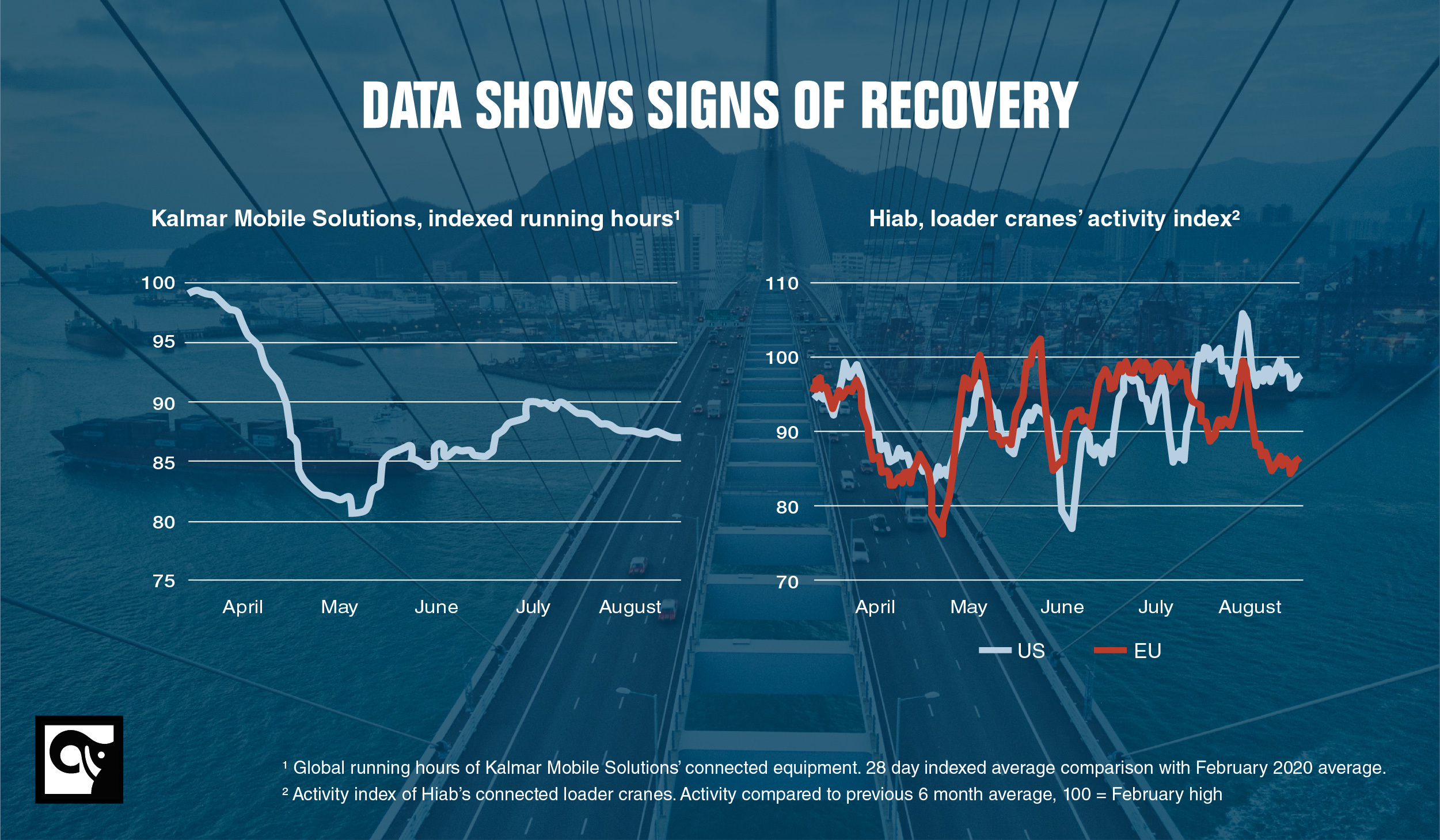 As of the end of June, global data on the running hours of Kalmar Mobile Solutions' connected equipment showed steady recovery in terms of activity. Data on Hiab's connected loader cranes also indicated a return to similar levels of operation as in February.
A potential tipping point for automation
With social distancing directives in many countries expected to persist in some form, pressure for businesses to ensure continuous operations is intense. Many industrial enterprises have reached a tipping point in that they have been compelled to seriously consider accelerating their use of automation to manage their assets and help avert disruptions. 
Industries are recognising the advantages offered by connected solutions, such as remote monitoring and condition-based maintenance in preventing costly interruptions, as John Carnall, MacGregor's Senior Vice President, Global Services, relates: 
"In the past, the service organisation footprint and logistics management capabilities required to effectively support ships in operation and maintain a schedule have perhaps not been fully recognised. With the current limitations on travel and provision of onboard support, this has changed. Customers are seeing the value of locally based specialists and remote technical expertise in ensuring that the right parts are available in the right place at the right time," says Carnall.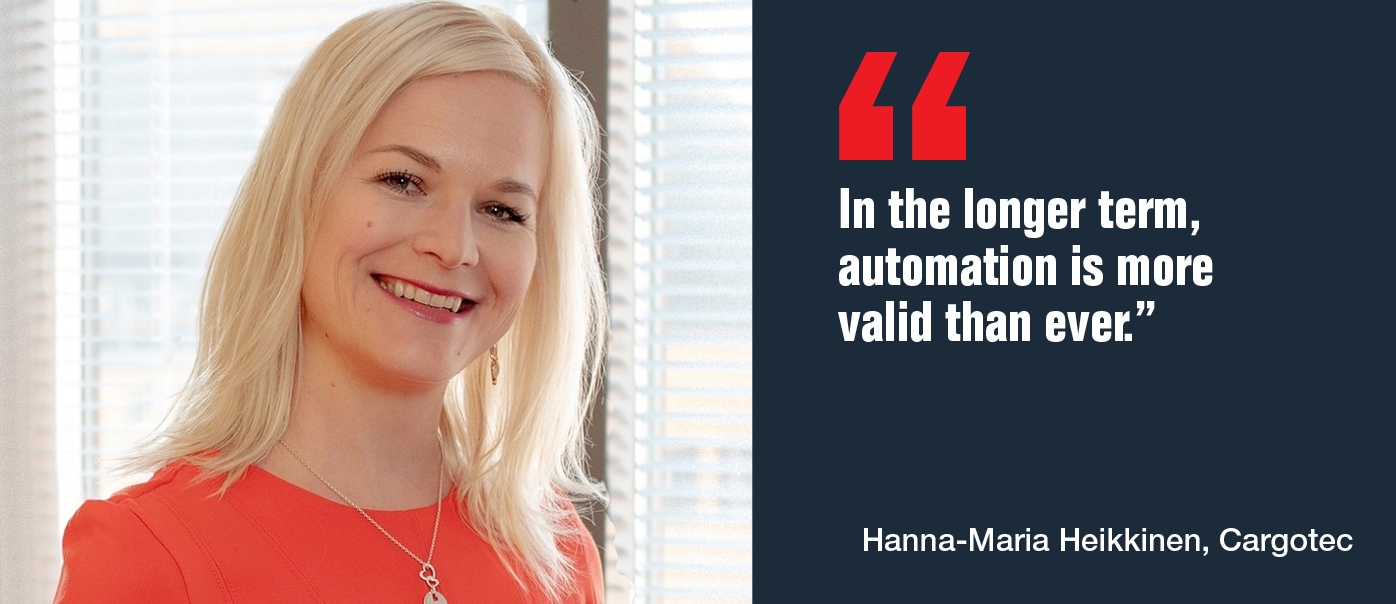 Spotting inefficiencies is more crucial than ever
At ports, on roads, and in industrial and logistics facilities around the globe, Cargotec, through its businesses, enhances the efficiency of resources used in cargo handling and industrial processes by harnessing solutions software, terminal operating systems, and cargo stowage systems. With the visibility enabled by connected solutions, these technologies identify potential inefficiencies and facilitate the planning of holistic improvements to processes – tasks that are more critical now than ever.
In response to economic uncertainty at the onset of the pandemic, businesses typically refrained from investing heavily into digital technologies. Although restrictions have been loosened in many countries, the pandemic has nevertheless already called attention to companies' need for solutions such as automation and remote maintenance to support their long-term survival. 
"Apart from enhancing industrial efficiency and environmental sustainability, connected  solutions also reduce the need for human-to-human contact in businesses' operations, making them safer and less vulnerable if a second wave of the pandemic takes place,"  says Hanna-Maria Heikkinen, Vice President of Investor Relations at Cargotec.
"Automated ports do not suffer from pandemics. Robots do not get sick nor require social distancing," she explains, pointing to cost savings and higher efficiency, better work safety, less emissions, and better operational reliability as further convincing propositions for customers.   
"In the longer term, automation is more valid than ever," asserts Heikkinen.