Cargotec Service Day: On track and committed to reach the target of EUR 1.5bn in service and software sales
14/06/2019
On 11 June 2019, Cargotec Investor Relations organised a Service Day event in Helsinki where the leaders of Kalmar, Hiab and MacGregor service businesses gave presentations about the growth prospects, recent development as well as achievements after the Capital Market Day 2017 and strategy.
Services is an integral part of Cargotec's strategy, and one of our financial targets is to reach EUR 1.5 billion in service and software sales during the next 2-4 years. We are well on track to reach the target, with already more than EUR 1.1 billion in service and software sales.

Service sales have been growing in Kalmar and Hiab. MacGregor's service sales have declined in the offshore segment as a result of a difficult market situation.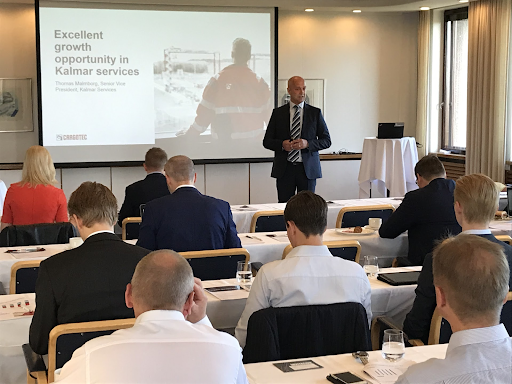 Thomas Malmborg, Kalmar Services SVP: "Our target is to be a service driven company, where we co-create with our customers and partners to deliver unique value and take responsibility of customer operations through performance based services."
In his presentation, Thomas Malmborg, SVP Kalmar Services, highlighted the excellent growth opportunities in Kalmar services. Kalmar's service business has grown well during the recent years. Excluding the two divested businesses (RTC and bulk handling), Kalmar's core services grew by 9.3% in 2018. Reflecting the promises given in Cargotec's capital markets day in 2017, Malmborg pointed out that Kalmar is close to the target of having 50% of maintenance business under contracts, with the level currently at 46%. However, there is still work to be done in getting the service contract attachment rate to over 10%. In terms of spare parts sales through e-commerce, the development has been good. The target is to have 40% of spare parts sales through e-commerce and currently the level is 30%. Malmborg highlighted that one of the critical factors in successful spare parts business is the availability. The target for guaranteed 24 hour availability of contracted parts has been reached for the Parts Care contracts.
Kalmar's personnel of 5,700 people are spread in 30 countries. With 1,500 service staff, Kalmar has a very good global reach to serve its customers. The service market provides excellent growth opportunities. According to Malmborg, Kalmar's total service market size is approximately 8 billion euros, which translates to a 3-5% market share for Kalmar. Kalmar's growing installed base is currently 65,000 machines and the spare parts capture rate 30%. Going forward, Kalmar has plenty of options to take the full benefit of the installed base, both in the spare parts as well as in maintenance side.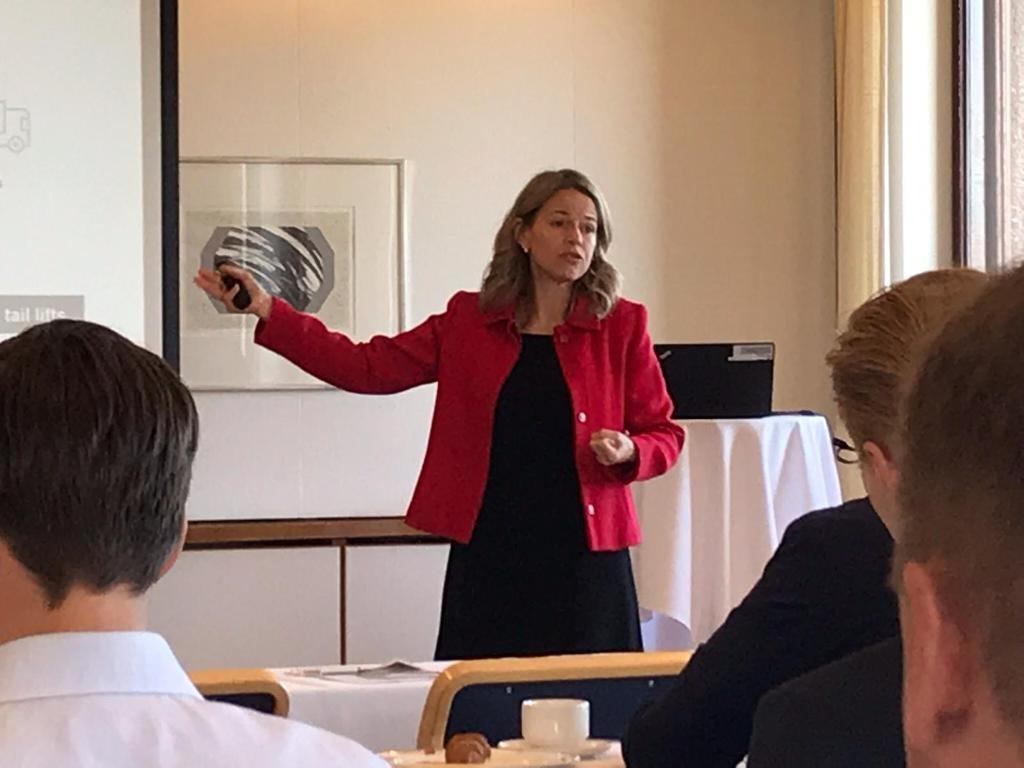 Hiab's Services SVP, Anna Almlöf: "Service excellence drives equipment sales leading to increased service potential."
Hiab's Services SVP, Anna Almlöf emphasised the importance of service excellence as an enabler for sales growth. Since 2014, Hiab's service sales have been growing at an annual rate of eight percent. Growth has been especially good in maintenance, of which roughly half is coming from spare parts. Geographically, the highest growth figures have been achieved in countries with newly opened workshops such as the United Kingdom, Germany and the US.
Hiab's services are delivering on all promises that were given in the CMD 2017 to accelerate growth. For example, the spare parts webshop is already serving customers in over 50 countries. Availability of spares through the webshop is also at a very high level of 98% for the stocked parts and 95% for all parts. Equipment connectivity is advancing, and Almlöf pointed out that connectivity will be a standard feature in all equipment leaving our factories during H2 2019.
Hiab's service network is strong especially in the core market areas Americas and EMEA. The installed base of 135,000 heavy equipment and over 240,000 tail lifts is a major opportunity to improve the customer experience throughout the whole lifecycle of the product, ranging typically from seven to twelve years. Hiab's services growth strategy is built around three main themes: digital solutions, M&A and service excellence. The service excellence is driven by Hiab's service operating model, further investments in tools and competence as well as increased service contract sales.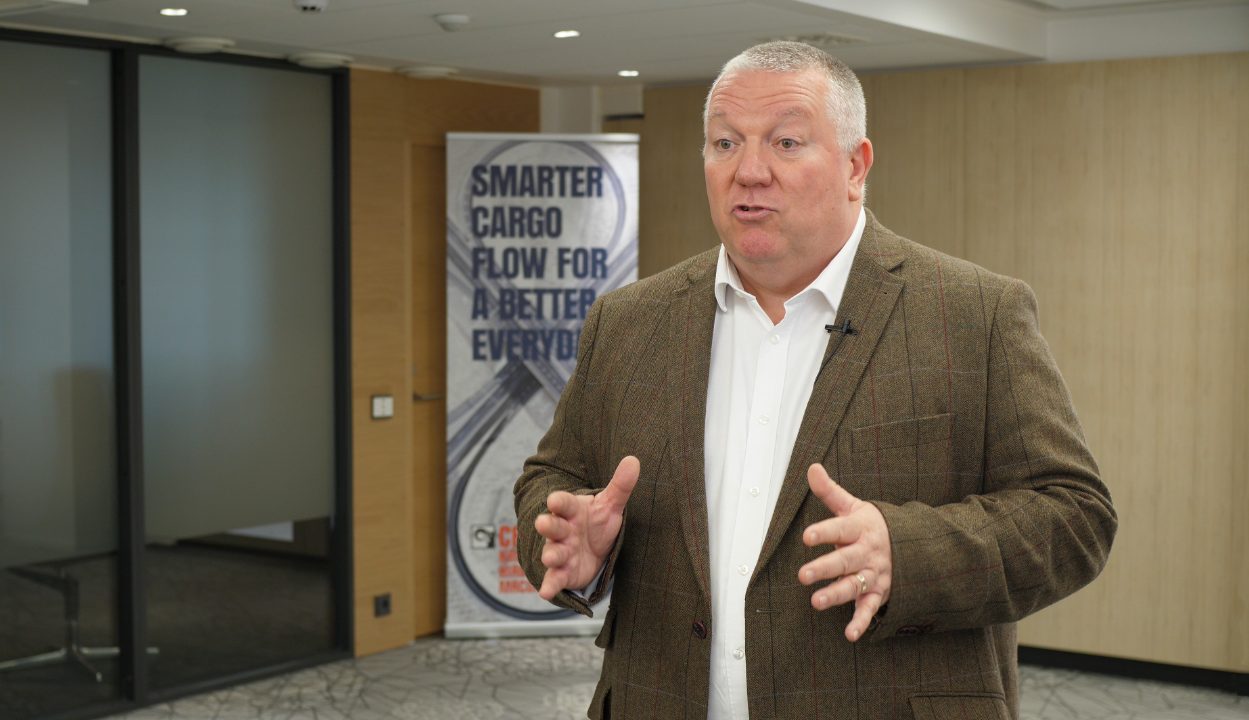 MacGregor Services SVP John Carnall: "While the service sales for the offshore sector have declined in the recent years, we have been able to keep the merchant sector sales stable despite the difficult market environment."
MacGregor Services SVP John Carnall told the audience that even though MacGregor's service sales in total have declined since 2014, the service sales for the merchant segment has remained stable. However, due to the difficult market situation, the offshore service sales have declined.
Looking at the actions and results since the 2017 CMD, MacGregor's development has been good in several areas. There are currently around 2,500 vessels under a service agreement. Also the response times and delivery performance has improved, aided especially by the newly opened Global Product Support Centers in Poland and Singapore. Examples of environmentally friendly service solutions include bio oils for ship hydraulics as well as soft flaps for RoRo vessels to reduce port noise.
MacGregor has already a strong position in the service market globally. Out of the total EUR 1.2bn market, MacGregor has a 16% market share, well ahead of competitors. Most of the sales are done by own sales units with external partners such as dealers or agents representing only 10% of service sales. MacGregor's service business currently employs around 800 people in 30 countries. Hence utilising the global footprint and bringing MacGregor's competence closer to customers is in the core of MacGregor services growth strategy.
The key takeaways of the event were related to strong progress that has been made in delivering the CMD 2017 promises in all business areas and the fact that Cargotec is on track and committed to reach the EUR 1.5bn target for service and software sales in the next 2-4 years. The strong market positions and large installed base in all business areas provide excellent platform for future growth.