Keeping hands safe
26/04/2023
A healthy and safe working environment is a fundamental right at work, and everyone should get home safely, every day. Zero accidents all day, every day is the goal at Cargotec as well.
Unfortunately, accidents do still happen. Injuries and actions to prevent them look different for each industry and company. At Cargotec, one of the most common injury types is hand injuries.
"Our business relies heavily on equipment assembly: putting together different components and elements. Our mechanics do a lot of manual assembly, and their hands are very often in risky areas like between a component and tool," says Karin Olofsson Ryman, Senior Manager for Environment, Health and Safety at Hiab. "We see a lot of 'pinch points' where, for example, fingers get hit by a hammer, pinched by another tool or cut by something sharp."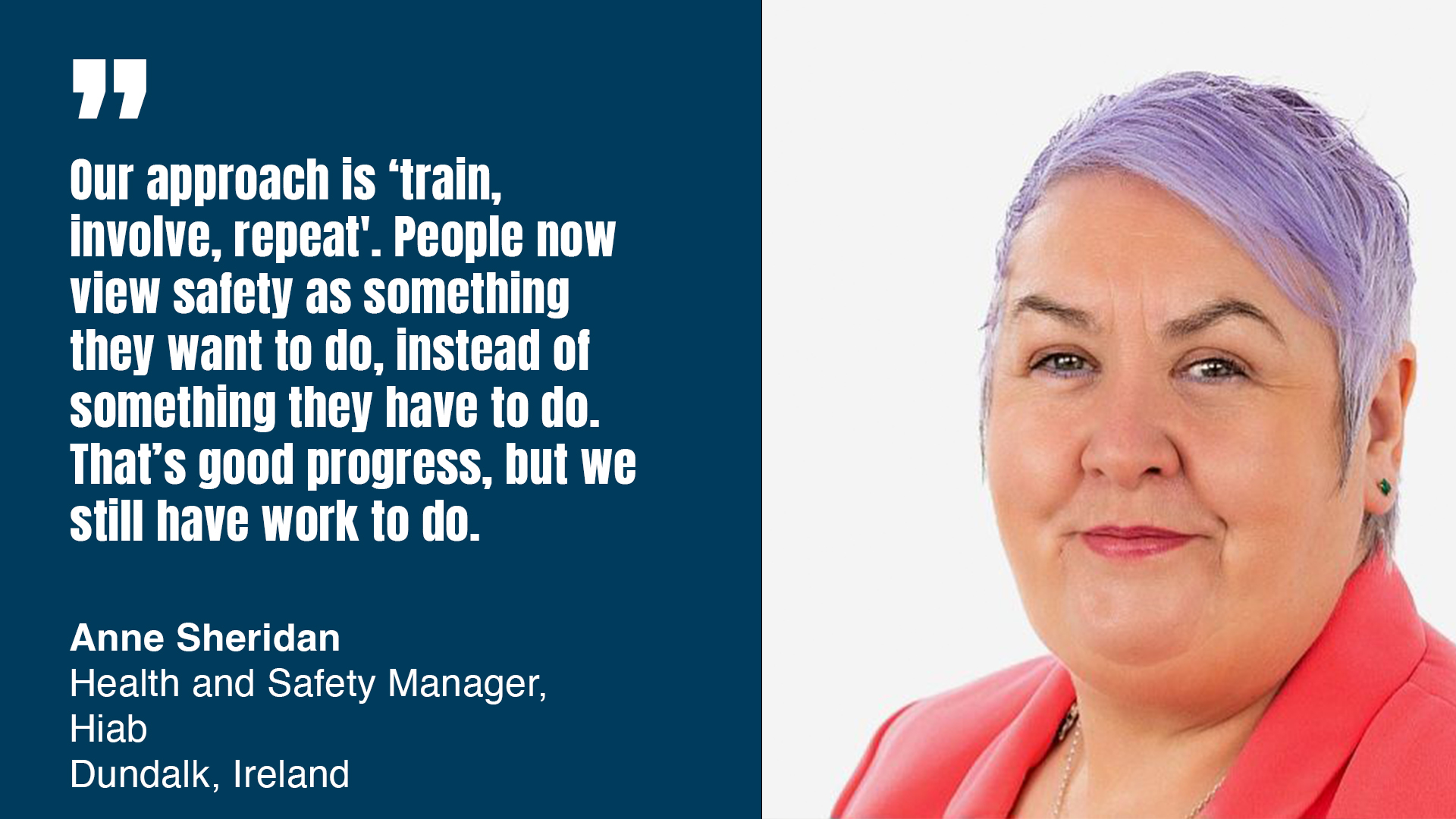 No such thing as too much training
Hand injuries may seem like a small thing, but some of them can be significant and permanent. While we continuously improve the safety of the working environment at Cargotec with, for example, new tools and safer design, our key tool is training, training, training.
"Our approach is 'train, involve, repeat'," says Anne Sheridan, Health and Safety Manager at Hiab's assembly site in Dundalk, Ireland. "It's not enough to train someone once — we need to make it relevant and involve employees in defining what actually is relevant. Then we repeat. For example, we've carried out hand safety campaigns that were quite successful, and we are planning to do another one in 2023."
The end goal of safety training is for safe behaviours to become something you just do without thinking.
"We are not quite there yet at Dundalk," says Anne. "But people now view safety as something they want to do, instead of something they have to do. That's good progress, but we still have work to do. For example, I'd like to see people report near misses more. Learning from these cases, such as when a component falls and just barely misses your hand, can prevent an actual accident in the future - to you or people around you."
Safety, inclusion and good leadership go hand-in-hand
It is essential that top management is committed to safety, and at Cargotec this has been the case for a long time. On the other hand, the closer a manager is to the "floor", the more powerful the message becomes. To build a solid safety culture, it is also crucial that line managers, top leaders and everyone in between act as role models for safe behaviour.
"At Dundalk, our operations director shows interest in what people are doing and how they're doing it by, for example, participating in our safety walks," says Anne. "But our line managers are the ones with their finger on the pulse. We encourage them to talk to people and figure out together how to do things more safely. When people feel listened to and included, they tend to be more committed."
At Cargotec, we are committed to making safety an integrated part of how we operate. For example, our R&D function considers ergonomics and hand safety when they design new equipment: how operators move around the equipment and how to ensure the machinery is assembled in an effective, ergonomic and safe way.
"It starts with design; how to design equipment that creates a safe working environment for assembly workers and operators but also the mechanics who service and maintain the machinery," says Karin Olofsson Ryman. "But it doesn't end there. Building a safety culture is a never-ending effort where continuous training, communication and reporting are key. Every scratch and every bruise is one too many, and we are all responsible for creating a safe working environment for ourselves, our colleagues and our customers. "