Finnish Industrial Days in Singapore - focus on Cargotec's businesses with strong presence in Asia
02/11/2018
In October 2018, Cargotec organised Finnish Industrial Days in Singapore together with KONE and Kemira for institutional investors. Cargotec hosted its part of the two-day event on 31 October, and the programme consisted of presentations given by Peter Cederholm, President of Bromma and Michel van Roozendaal, President of MacGregor. There was also a visit to PSA port in Singapore. Approximately 30 institutional investors and analysts participated in the event.
MacGregor's markets are returning at a cautious pace - refined strategy to meet new requirements

Van Roozendaal explained that during recent years, MacGregor has suffered from a weak market situation but lately there have been some signs of merchant sector's cautious recovery. Clarksons estimates that in 2021 the long term contracting will be almost at the historical level.
Offshore market is also coming back slowly: The industry has achieved fundamental cost reduction and boosted deepwater productivity through advanced technology and using existing infrastructure more efficiently. As a result, some projects which previously required high crude oil prices to be profitable are seeing a 'transformation', with significantly more cash flow potential than US shale.


MacGregor's strategy aims to add balance between equipment, services and solutions
Cargotec announced a refined strategy in September 2018, and MacGregor has aligned its strategic focus areas with Cargotec must-win battles. For 2019-2021, MacGregor has four must-wins: 1) build on customer centricity, 2) grow in intelligent services, 3) enhance way of working and 4) engage and empower people.
Latest solutions highlight the endeavours MacGregor has taken to execute the strategy. Breakbulk Optimiser, for example, increases ship's operational efficacy by monitoring cargo stowage performance indicators, reducing complex planning processes and improving information transparency. With smart solutions, MacGregor aims to offer next level performance to the customers. In addition, the strategy helps MacGregor expand the offering from equipment and services to intelligent solutions and into new market segments, such as offshore renewables and fishery, research & deep sea mining.
80 % of global shipbuilding takes place in Asia. Consequently at the end of 2017, MacGregor moved its headquarter to Singapore to be closer to the customers. The relocation supports MacGregor's strategic objectives and today's customer needs, as customers expect comprehensive understanding of the business throughout the lifecycle as well as responsive and reliable global service and support. Besides Singapore, MacGregor has strengthened its positions in China through strategic partnerships (read more about a joint venture with CSSC Nanjing Luzhou, or Letter of Intent with CSSC).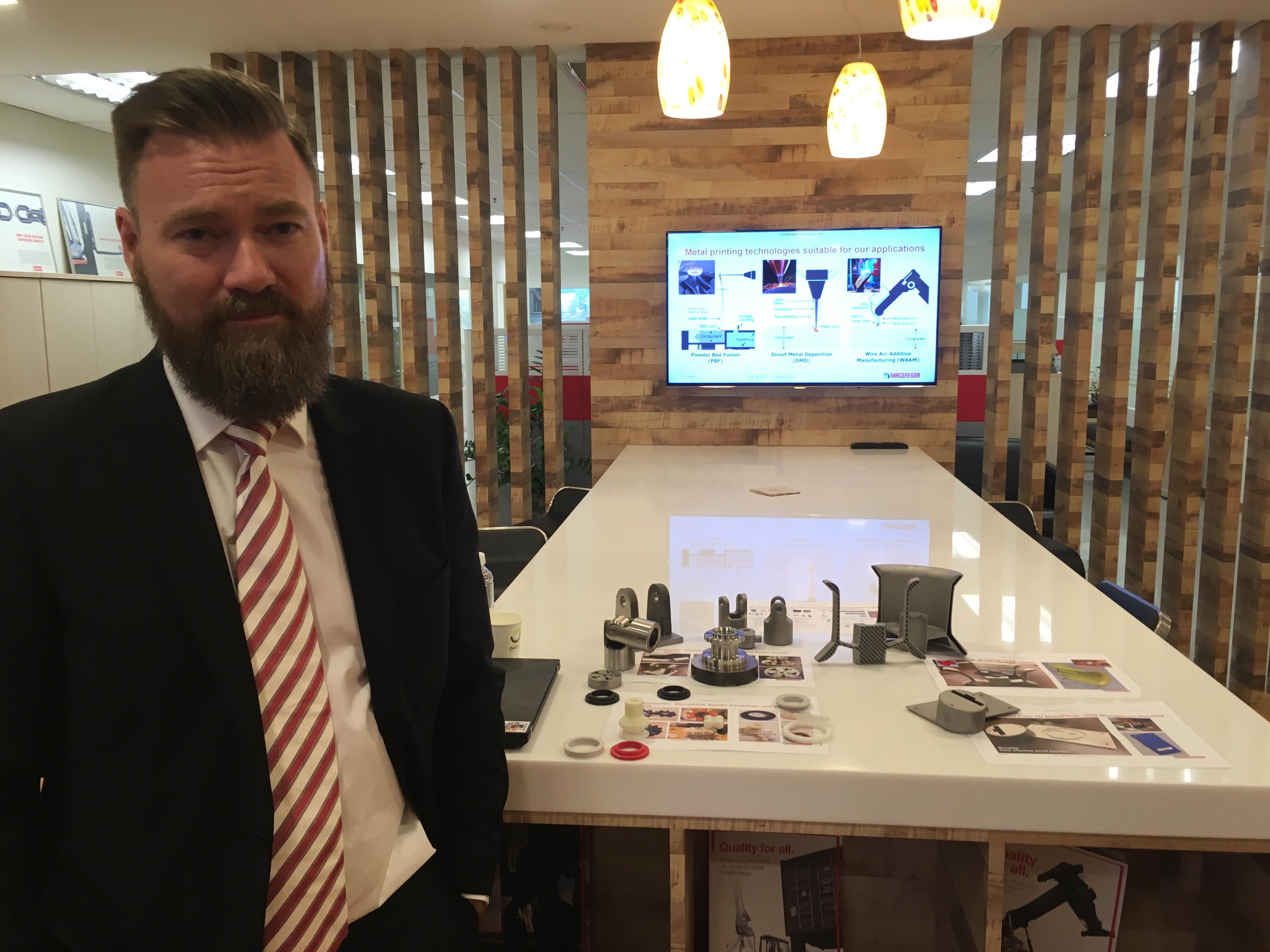 As part of the MacGregor presentation, Dieter Kleen, Director, Product Portfolio Strategy in MacGregor, demonstrated the several opportunities that MacGregor's service business has in the 3D printing technology.

Kalmar's division Bromma - leader in the spreader market
Bromma, one of Kalmar's divisions, is a clear market leader of spreaders and related services for both port cranes and mobile equipment. Bromma's sales form close to 10% of Kalmar's revenue (Kalmar sales totalled EUR 1,640 million in Q4/17-Q3/18). The profitability is relatively good as the business has a double digit EBIT margin.
Bromma's brand is the most recognised and well-reputed in the spreader market. Having a leading market position means that Bromma holds a 50% market share in crane spreaders and ⅓ of world market of mobile equipment spreaders. As is the case for Kalmar, global container terminal capacity increase and container throughput are the factors that drive Bromma's market, and both are expected to grow in the upcoming years. In addition to that, replacement market brings extra growth: the lifecycle of Bromma's equipment is around 12-15 years, and replacement investments are increasing.
Bromma's strong position among its key competitors (ZPMC, RAM and Stinis) is based on the reliability and quality of the products, environmental leadership, innovation, and strong Swedish brand. Currently, Bromma has clear strategic focus areas. The division focuses on strengthening further its market position in APAC and Greater China, sustaining strong position in Americas and EMEA, as well as capturing the spreader replacement markets. In addition to these, Bromma aims to develop digital solutions and services around the core products and secure Bromma's connectivity in the digitalised "systems-of-systems".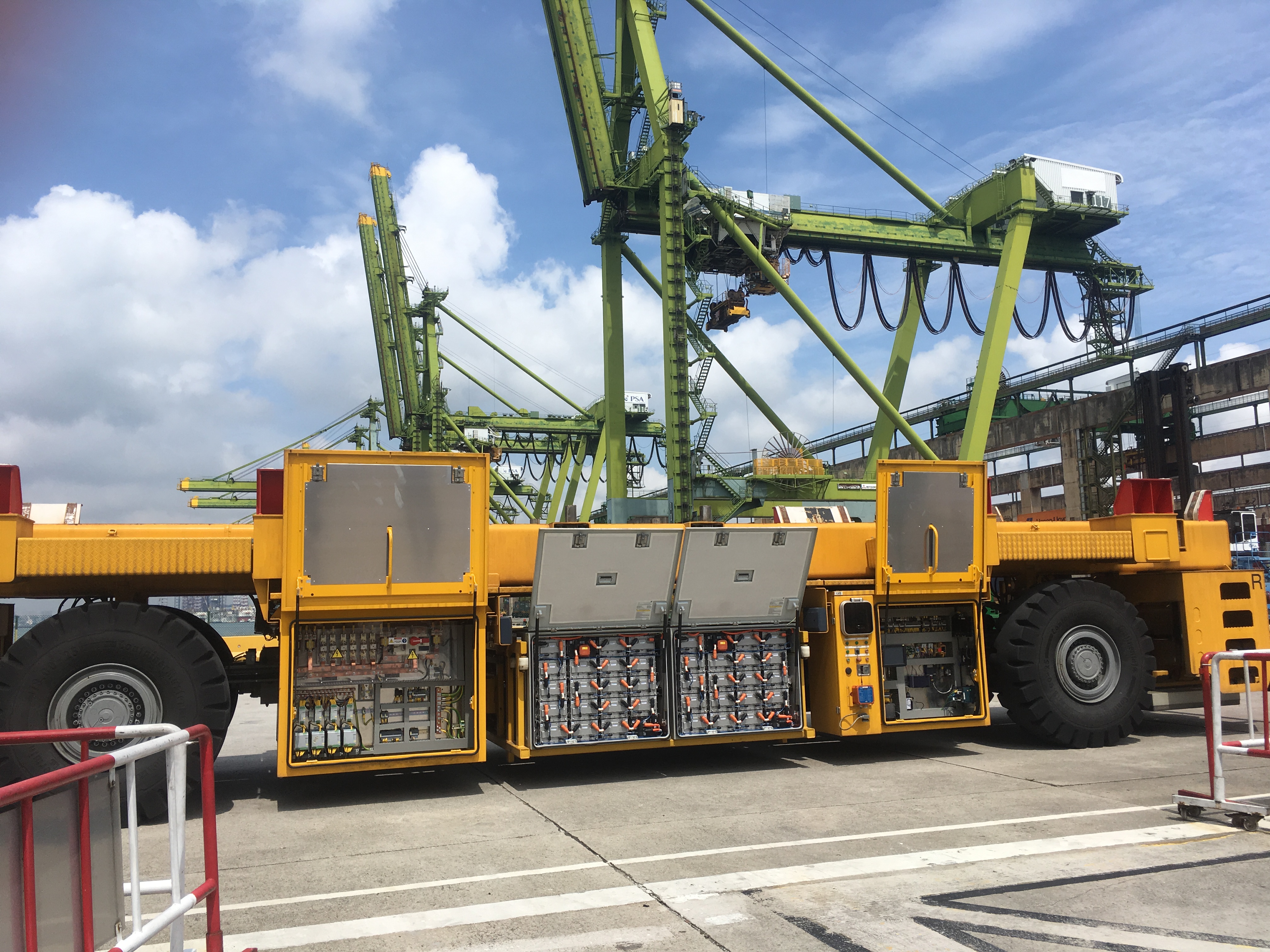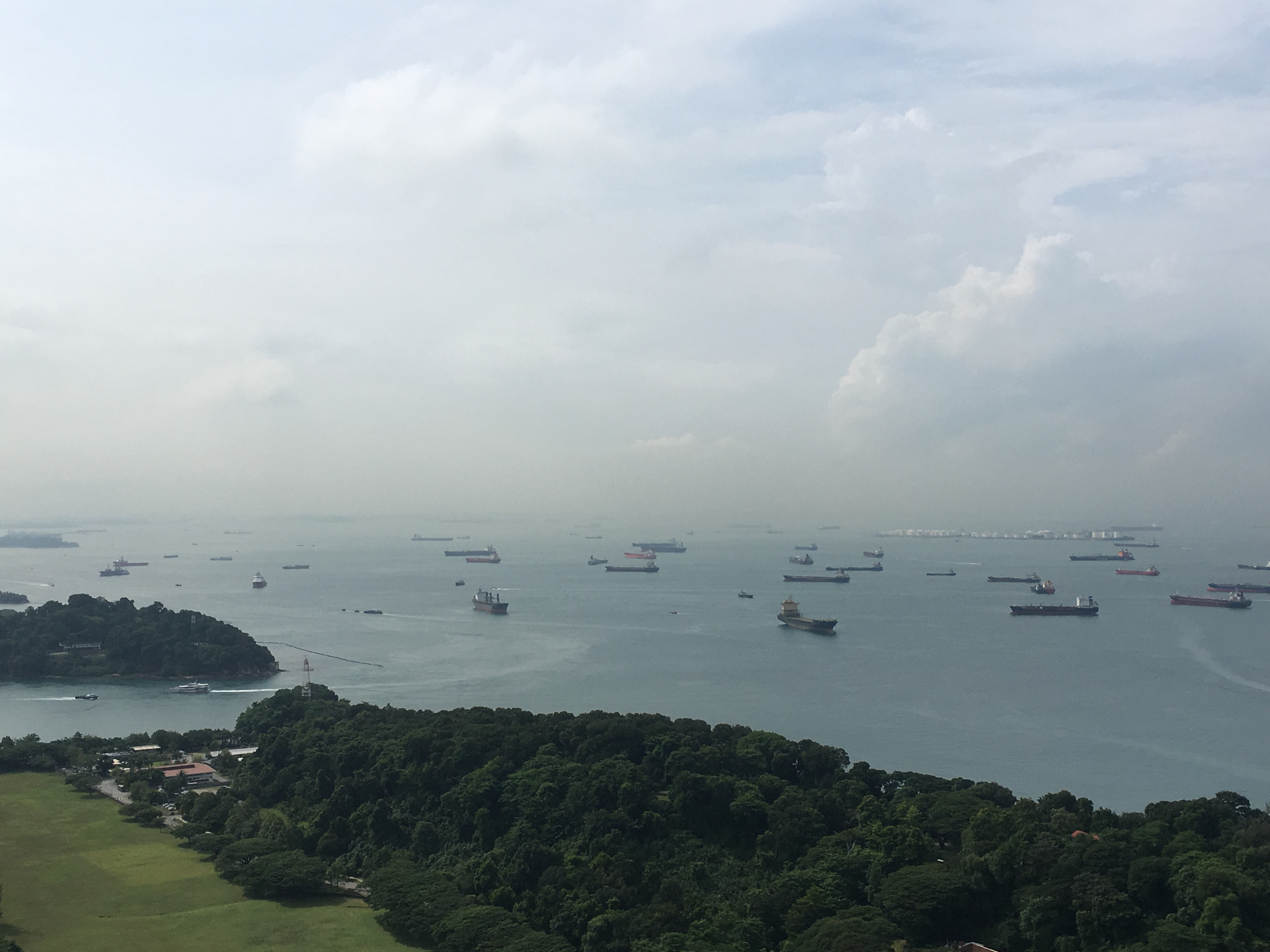 PSA Singapore is one of the second largest port in the world. During a single day, it handles 60 vessels, over 12,000 truck movements, more than 90,000 container transfers and an inventory of 240,000 containers. Guests enjoyed the visit to PSA and commented that it was an "eye opener". At PSA, investors were excited to see Kalmar's automated guided vehicles (AGVs, on the left side photo) and Bromma's spreaders.


Positive feedback from the audience
During the event, the audience was keen to understand how both Bromma and MacGregor can compete against strong Chinese players and how to make sure that Cargotec's solutions are better than the competitors'. Several questions about Bromma's services were raised, e.g. how much servicing do the spreaders require, what is the typical spreader lifetime and how much equipment Bromma has under service agreement. Regarding MacGregor, questions were related to the market and business recovery and TTS acquisition status.
The feedback from the participants was very positive. The audience appreciated the possibility to have two deep dives into two different businesses, and the possibility to discuss with the management. The event participants value the strong position and long heritage that both Bromma and MacGregor have in their businesses.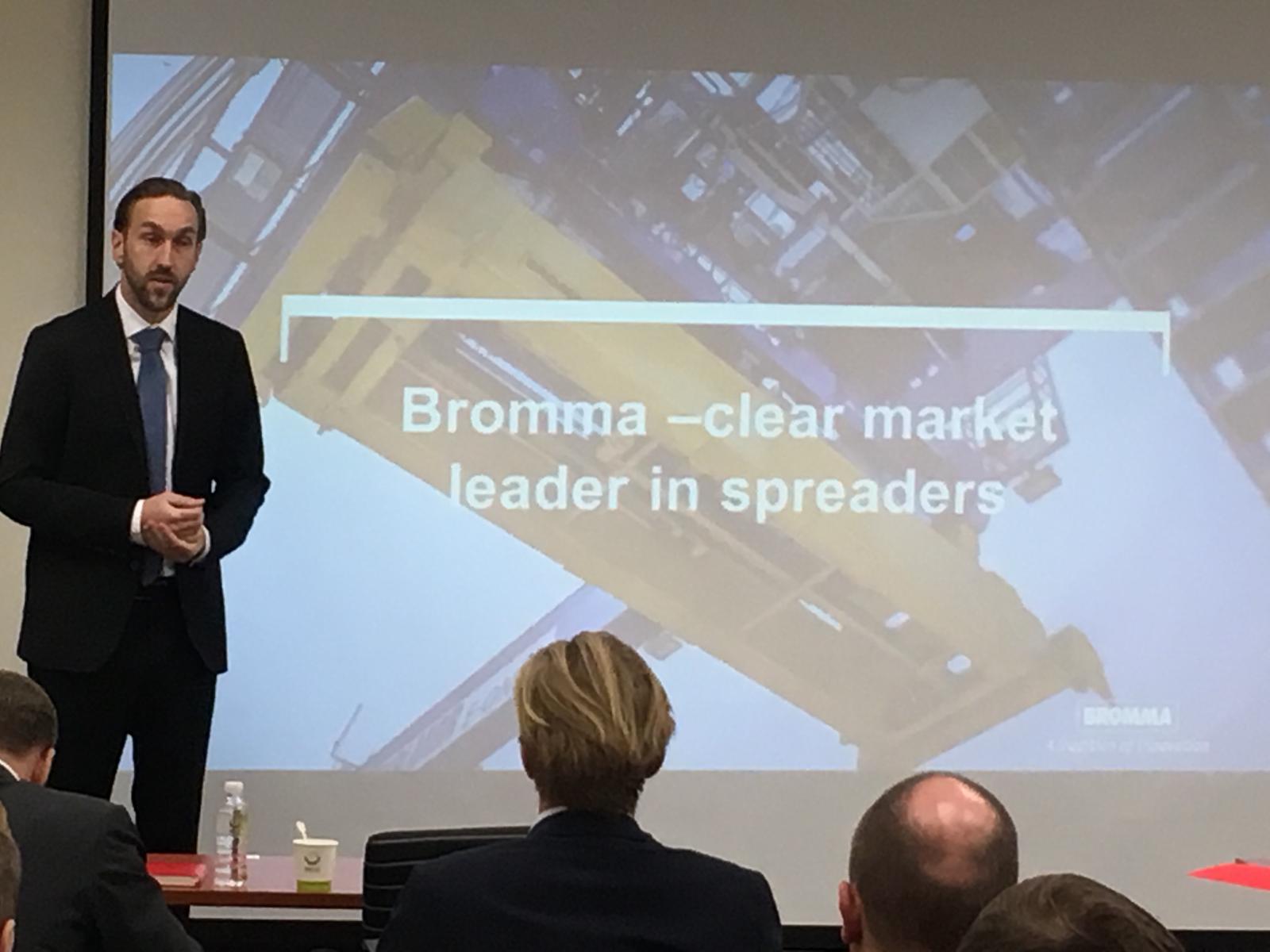 Peter Cederholm, President of Bromma, tells about Bromma's competitive advantages: reliability and quality of products, innovation, environmental leadership, and strong Swedish brand
Video interviews with Michel van Roozendaal and Peter Cederholm
In the below videos, MacGregor President Michel van Roozendaal as well as Bromma President Peter Cederholm tell about their businesses. The videos have English subtitles.