The story of OnWatch Scout - How MacGregor's 24/7 remote monitoring became smarter and better, by working together
15/01/2020
Have you ever wondered what goes on behind the scenes during the birthing of a new digital solution? Perhaps a lone inventor shouting "eureka!"? In the case of MacGregor's OnWatch Scout it was quite the contrary. This is a story about collaboration, that demonstrates how modern innovation can look like at Cargotec - working smarter, better and together in real life. [Estimated reading time: 10 minutes]
AUTHOR: ANTTI KALSKE
Nor-Shipping exhibition, June 2019. Marcus Wolter was smiling after yet another customer meeting. The discussion confirmed what he had already been convinced about for a long time: "We don't want our equipment repaired quickly. We just want it to work."
This was exactly the insight Marcus, Marketing Director of MacGregor New Businesses, and his colleagues had been working on during the past months when developing OnWatch Scout - a software solution connecting equipment to advanced monitoring systems. In summary, it continuously analyses performance and predicts problems before they happen, enabling maximum availability and minimal unplanned downtime. "We basically had a 100% hit rate of customer interest every time we described what we are doing," says Marcus, underlining the clear customer need.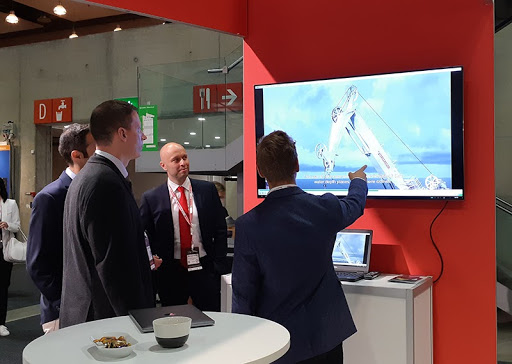 Marcus Wolter (middle) at Nor-Shipping 2019
The technical solution needed to address the identified problem was complex and required cutting-edge capabilities, technologies and resources. Some of which were not typically found in a cargo handling solutions company. Still, the development process, whilst intense, proved to be a surprisingly fast and successful exercise. How did they pull it off?
This story is an example of the power of collaboration in modern innovation. To understand how it was possible, we need to first rewind back to September 2018.
The time of renaissance 
Dennis Mol had just started as MacGregor's VP, Digital and Business Transformation. Together with his team, Dennis had identified four digital projects they would focus on developing during the coming year. One initiative that had particularly caught their eye was OnWatch (without the Scout), released five years previously.
"The original OnWatch gives customers a 24/7 ability to ask for a remote check for their equipment and consult a technician," Dennis explains. "We already had a functioning platform that could be developed into a game-changer. Instead of customers having to contact us for support when problems arise, we wanted to offer proactive performance monitoring and recommend actions that would maximise availability."
OnWatch Scout's renaissance truly started when Daniel Lundberg, Director of MacGregor Service Business Models, took over as project manager and the team received hands-on support from Cargotec's Emerging Business Accelerator (EBA) from March 2019 to late fall. EBA is an intrapreneurial function, which all of Cargotec's business areas can utilize to develop new innovations in lean startup style. "In short, EBA speeds up the journey from idea to product-market fit. We help Cargotec's business areas to massage new ideas to impactful products using modern tools," explains Jukka Tukiainen, Director, Emerging Business Development. "It's challenging to build new businesses and OnWatch Scout also had some rough times along the way. The team however did a great job overcoming these obstacles - and look where they are now!"
One of the most intense phases of the process was a 10-week service design sprint, where a prototype of the product was created. During this phase the EBA coach's guidance was especially helpful. "These weeks took us from a white sheet to a prototype concept, including machine learning data validation and state of the art user interface. We further created full legal, commercial and marketing packages, ready to provide to our customers at Nor-Shipping," Daniel describes their accelerated development work. "Having an EBA coach was fundamental in ensuring we were covering all the right things to make this a successful project."
Shifting gears
Whereas EBA was vital in supporting the team in their business planning, technical expertise was still missing to make the solution come alive. More specifically, deep-learning algorithms for analysing and predicting data trends, as well as the whole user interface design and data architecture.
This is where partnering came into the picture. In late 2018, Cargotec had become one of the main partners of Rainmaking's Trade & Transport Impact programme, which brings large corporations together with the most promising startups in the industry. The timing was perfect as the OnWatch Scout team took part during the spring of 2019. In fact, Tero Hottinen, who is responsible for Cargotec's startup partnerships, had scouted a company in the programme that seemed like a perfect partner to provide the required level of artificial intelligence.
That partner was Arundo Analytics. Arundo had entered the Trade & Transport programme to find corporate partners that could utilise its enterprise-scale machine learning and analytics. "Together with Arundo, we were able to make more progress in only two months than during the whole previous year," Daniel gives credit to their partner. "Working with a truly agile scale-up also challenged us to progress at the same pace. It shifted more than a few gears in the development work."
The match between MacGregor and Arundo was one of eight collaboration projects that Cargotec started during the first cycle of the Trade & Transport Impact programme. "I think this perfectly exemplifies the future of R&D in our industry, which is coming out of silos and entering an ecosystem-based thinking," Tero Hottinen notes. "Nobody can own the full stack of capabilities and knowledge to change the industry alone, but by joining forces we are more than the sum of our parts."
The in-house coding machine steps in
While Arundo was an important partner in creating a critical algorithm, the whole offering including back-end architecture, data storage and solution integration still needed to be created. Here, Cargotec's Digital Solutions Hub stepped into the game.
"The Digital Solutions Hub is basically a team of more than 30 hardcore software experts. Our job is to help all of Cargotec's business areas to boost their software solution development," describes Tommi Pettersson, who heads the Digital Solutions Hub in Tampere, Finland. Tommi's team was established in early 2019 and has already been vital in quickly pushing several digital projects down the pipeline.
The Digital Solutions Hub started working with OnWatch Scout already in late spring 2019. "The great thing with having such an in-house team is that we can openly discuss ideas at a very early stage, without thinking about non-disclosure agreements or other bureaucracy," Daniel explains. "Involving them already early on in the project helped ensure that everything from data architecture to user experience could be optimised from day one. For our customers, it simply means solutions are more reliable, easier to use and are thus generating revenue faster."
A collaborative approach brings fast results
This brings us back to Marcus Wolter and Nor-Shipping in June 2019, where excitement was building at the MacGregor stand. The first outputs of the development work had been materialised into a prototype that could already be shown to the market after only three months of full-on development. This inspired the project team to reflect on why the journey so far had moved quickly.
"I believe one of the reasons why we were able to pull this off is that we were running into open doors," Marcus sums up. "We never had to convince people that they should support us; we have received excellent support and people have been willing to help and learn."
Revisiting the original question of how all of this was possible, Daniel also has a clear opinion of success factors. "All in all, I think that our entrepreneurial mindset and the extra muscle we have received from Digital Solutions Hub, EBA, other business areas, Arundo and the Trade & Transport Impact Programme, among many other partners has been vital in getting this delivered in such a short time. I think that really shows what our joint capabilities are in this company and what we can do."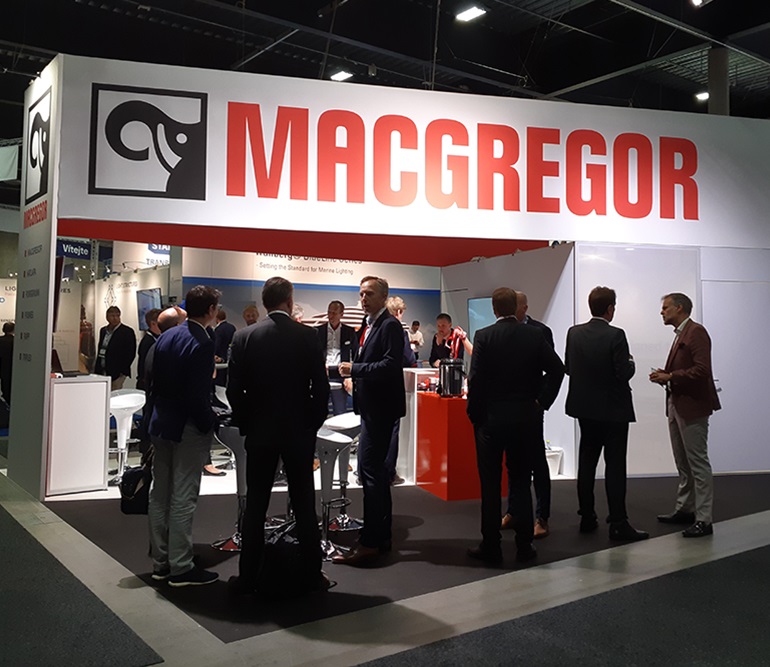 The prototype of OnWatch Scout was introduced at Nor-Shipping 2019 
Indeed, Cargotec's other business areas also proved to be valuable partners during the process. Hiab, focusing on on-road load handling, had already been a forerunner to launch something similar in the form of Hiab HiConnect. "Having a benchmark and sparring partner from Hiab was of course beneficial to us," Daniel points out. "They had already gone through the process and could share best practices which we could apply to our own work."
Coming soon!
Marcus points out that we have not yet even touched upon one of the most important partners in making this all possible; customers. Especially as the development work progressed it became essential to gather use experiences. "During the autumn of 2019, we worked with three offshore and merchant pilot customers, spanning from Europe to Asia," Marcus tells. "Working closely with customers to validate the value of our concept and get continuous feedback has been paramount."
On 2 December 2019, MacGregor and Kongsberg announced a collaboration agreement to test OnWatch Scout within Kongsberg Digital's Vessel Insight data infrastructure solution. As Vigleik Takle, SVP, Maritime Digital Solutions at Kongsberg Digital put it, the companies have a "common interest in accelerating the adoption of digital technology-enabled capabilities in support of the maritime industry becoming safer, more efficient and environmentally sustainable."
This is an important step on the way towards a fully commercialised solution that can be delivered to the market. Having an established systems integrator committed to a trial of a significant scale is not only a sign of confidence in the solution, but also a signal that the maritime industry is genuinely moving towards a more connected, digital reality.
Next up? Daniel, Marcus, Dennis and the rest of the team are eagerly waiting for first experiences from the collaboration. They are working hard towards entering the market in 2020, while keeping in mind the customer need they are aiming to address:
"We don't want our equipment repaired quickly. We just want it to work."