Strategy
Cargotec's strategy breakthrough objectives are sustainability and profitable growth. Our vision is to become a leader in sustainable cargo flow.
Cargotec's strategy's breakthrough objectives concern climate and profitable growth. With its business areas Kalmar, MacGregor and Hiab, Cargotec's vision is to become the global leader in sustainable cargo flow. In concrete terms, Cargotec aims to reduce the CO2 emissions of its value chain by 1 million tons by 2024.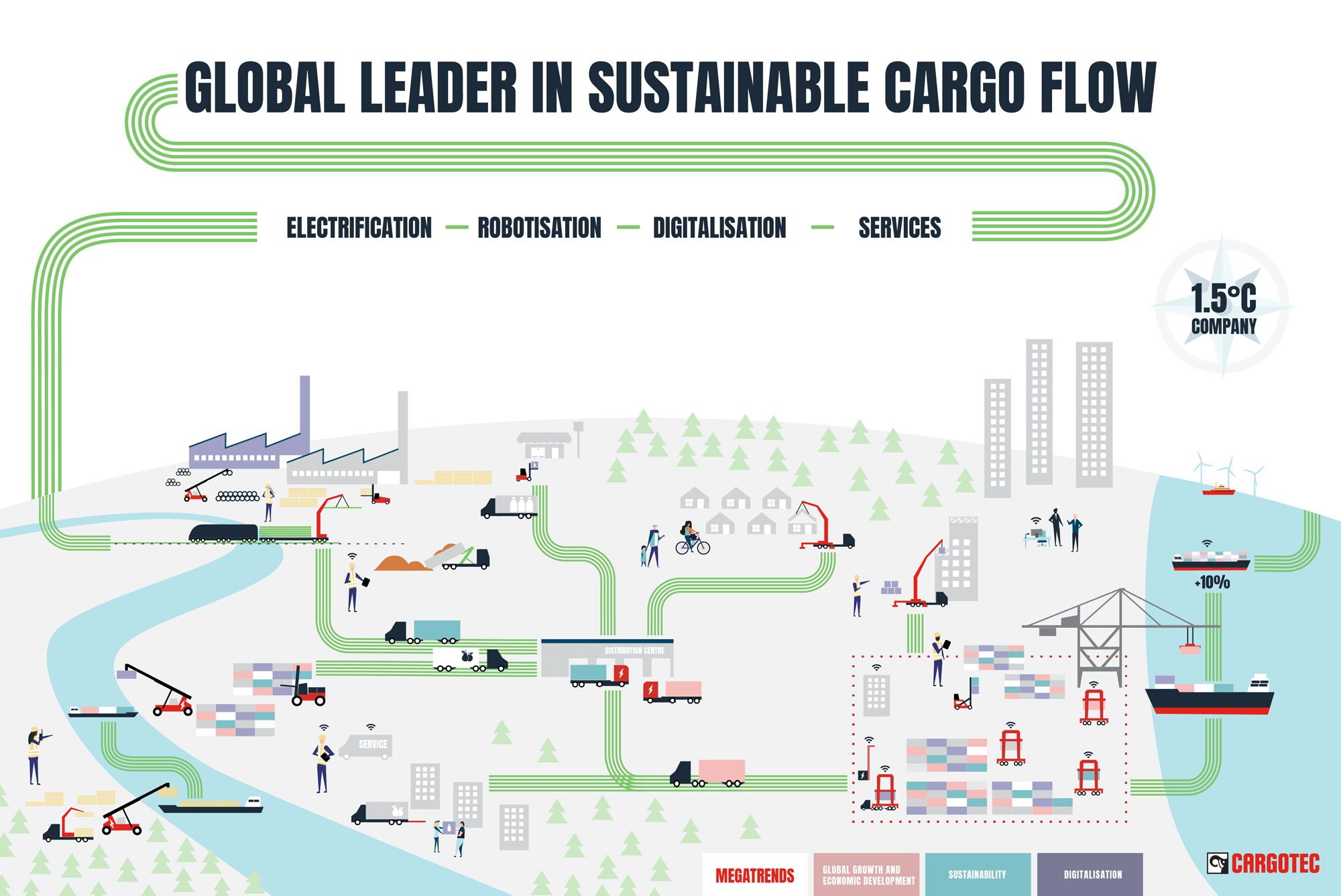 WHERE TO WIN
Grow in core and adjacent businesses
We will continue to seek growth within our core and adjacent businesses. Emphasis is in organic growth but we also actively look for opportunities through M&A.
Solve customer challenges in climate change and sustainability
Our customers are facing increasing pressure from regulation and their customers to start providing a sustainable offering. We want to provide intelligent solutions that will help our customers solve their climate change and sustainability  related challenges and reduce the burden on the climate.
Invest in industry innovation and transformation
Continuous investments in innovation are a prerequisite for long-term success. New technologies in terms of AI, robotics and automation are transforming Cargotec's industries. To retain our leadership position, further investments are  needed. On the other hand, these investments and technologies enable us to create new climate solutions for our customers.
Expand lifecycle services
Service business offers growth opportunities due to the low capture rate in many areas of traditional services. We seek growth from extended service offerings and life cycle services.
WAYS TO WIN
People and leadership
Cultivating good leadership to empower our people to perform at the highest level is at the core of everything we do. We continue to improve our organisational climate index.
Customer collaboration
Working closely together with our customers is the key to becoming the global leader in sustainable cargo flow. Close customer relationships and smooth collaboration are key differentiators that make us stand out from our competition.
Mission Climate
To address our breakthrough objective focusing on sustainability, we have launched Mission Climate. The programme targets to reduce our carbon footprint as well as creating new innovations within sustainability and climate change.
Innovations and new business models
We are on a mission to solve industry-wide problems through intelligent solutions. We aim to develop new innovations and business models through our Digital Solutions Hub, Emerging Business Accelerator and world-class R&D.
Life cycle solutions
Expanding our service offering from traditional maintenance and spare parts sales to providing intelligent solutions throughout the equipment life cycle. Digital offerings to address customer challenges are still a big opportunity. Through our innovative offering, we are able to serve our customers better.
Operational excellence
We are committed to delivering on the existing productivity improvement programmes to improve profits and to ensure a good position to invest in new innovations. Introducing a lean toolkit to support our management practices is another step on our journey towards operational excellence.
HOW TO MEASURE
We measure our success against the following metrics:
Customer satisfaction
Reduction of CO2 equivalent emissions
Share of eco portfolio sales
Leadership index
Financial performance