Software day - Significant potential to improve the efficiency in the ocean supply chain
07/06/2017
Software Day for investors and analysts 1 June 2017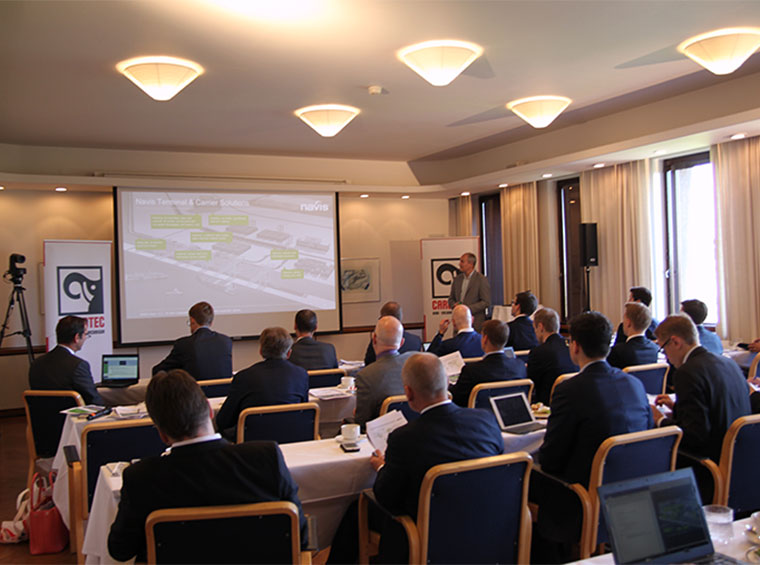 Investor relations of Cargotec organized a Software Day on 1 June 2017 in Helsinki for institutional investors and analysts, 30 altogether. In the event, Benoit de la Tour, President of Navis and Kalmar Software, and Andy Barrons, Chief Strategy Officer, gave out presentations about Navis, a business line of Kalmar and the global leader in terminal operating systems. Kalmar's President Antti Kaunonen was also present and answering the questions from the audience.
Navis' sales form the majority of Cargotec's software sales, and the unit plays a crucial role in helping Cargotec to become the leader in intelligent cargo handling. In 2016, Kalmar's software sales totalled EUR 148 million, out of which more than 100 million came from Navis. The company has around 600 professionals globally who are located mainly in the US, Europe and India. The main components of Kalmar's software sales are the Navis terminal operating system (TOS) as well as the Kalmar terminal logistics system (TLS). The combination of equipment, services and software makes Kalmar's offering very compelling as none of the competitors has all the three elements in their product range.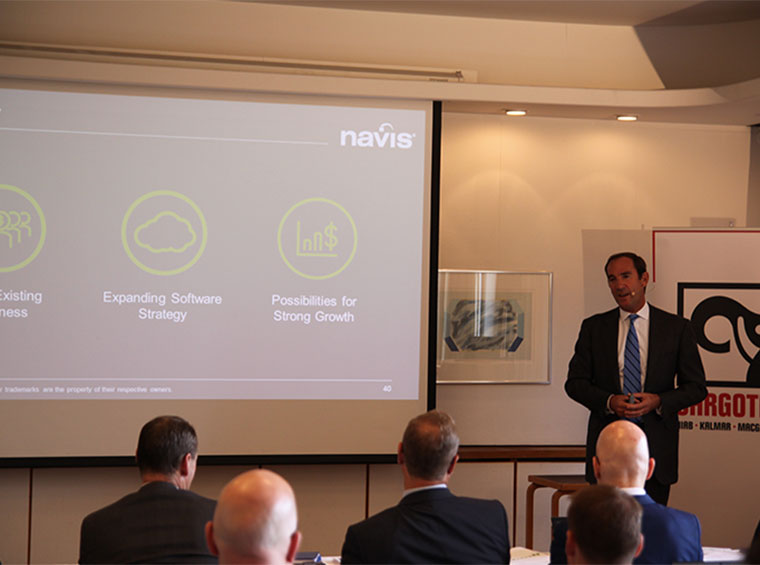 In his presentation, Andy Barrons highlighted the unique position that Kalmar has as a one-stop-shop for all the terminal software, service and equipment needs. Benoit de la Tour presented the huge inefficiencies that still exist in the ocean supply chain and how Navis can improve its efficiency. The supply chain is now complex, full of inter-dependencies, and largely untouched by digitalisation. By simplifying the supply chain complexity and reducing inefficiencies, as much as 17 billion annually could be saved in total.
Most of Navis' revenue comes from a perpetual licensing software model. In addition, Navis expects a gradual shift to a recurring revenue model as it expands its software solutions. For instance, the (software as a service) SaaS model has been implemented with the collaboration cloud platform Xvela, which makes possible real time collaboration and standardized communication between actors in the industry.
Navis has a strong market position, being present all over the world. Globally there are approximately 1300 terminals. Most of the customers belong to the medium and large market segments, and Navis has been involved in 17 out of 40 automation projects of customers. Navis estimates that the total addressable market for the TOS solutions is around EUR 500 million.
During the event, the discussion was very active. Participants were interested in Navis' competitive advantages and growth prospects, as well as the improved efficiency of an automated terminal in comparison with a manual one. The feedback from the audience was positive as the event provided an opportunity to deepen the understanding of the software business. Many participants agreed that the business could be highly valuable and that investment in software is a very good strategic move for Cargotec.
Watch the interview of the speakers Benoit de la Tour and Andy Barrons below.