Why is Cargotec measuring its carbon handprint?
15/02/2021
Measuring the impact of climate change can be done through different frameworks, such as planetary boundaries, the carbon budget and the carbon footprint. Yet while these frameworks are helpful, a more recent tool, the carbon handprint, helps to address the limitations of its predecessors.
AUTHOR: HARRY LAWRENCE
"Let's reduce carbon emissions by 50% by 2030." Cargotec's climate ambition sounds measurable, but how are measurements actually conducted?
While the concepts and impact of value chain, use-phase and own operations emissions have already been explained in detail, the concept of a company's climate impact goes beyond its footprint. That is why Cargotec's Sustainability team is also looking into the positive environmental impact it can make, rather than only reducing the negatives. Its handprint.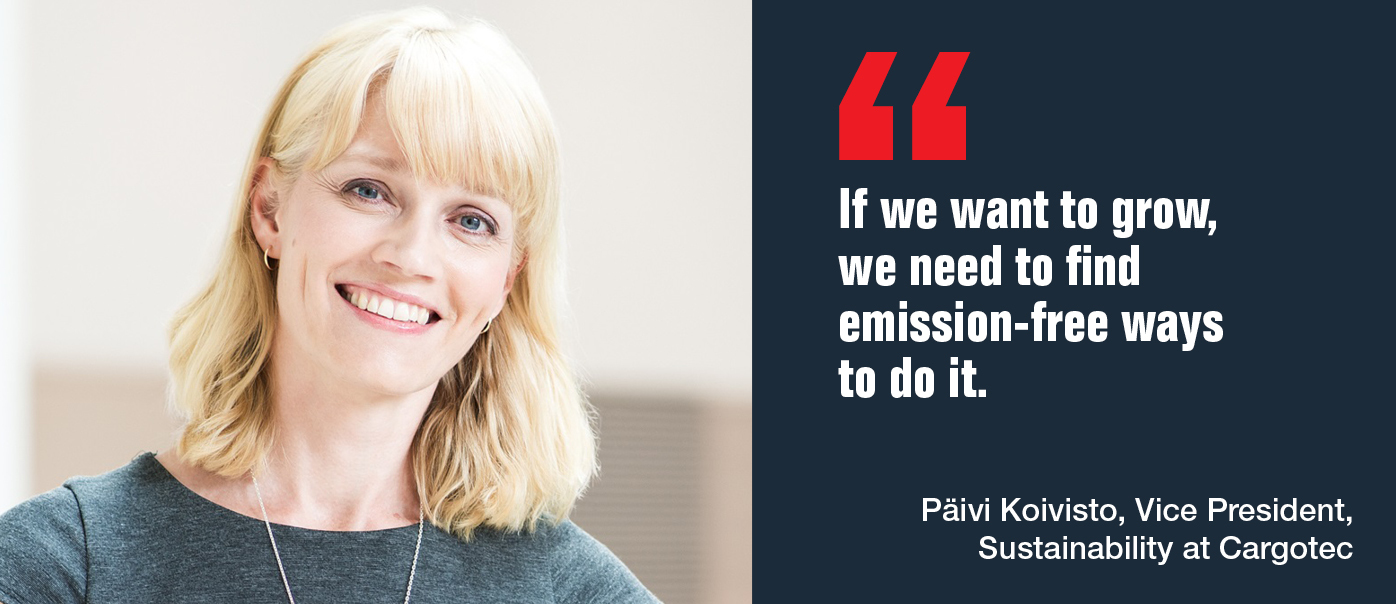 Low-carbon products help reduce Cargotec's carbon footprint

Carbon footprint, the negative impact a company has on the environment, is starting to become business-as-usual. When a company thinks about its carbon footprint, its goal is to reduce it as much as possible.

Carbon handprint, on the other hand, refers to a company's positive environmental impact, or emissions avoided. This idea is based on the principle that a company reducing its own footprint is not a handprint. Rather, the handprint is achieved by improving the performance of the customer by reducing its footprint.

"The use phase of Cargotec products accounts for over half of Cargotec's overall carbon footprint," says Noora Jukkola, Sustainability Development Manager at Cargotec. "That's why our focus has been on low-carbon products and services, so that we can reduce our carbon footprint throughout our value chain and to ultimately deliver on our climate goal."

"The idea of the carbon handprint is to measure the positive impact our products and services can have at customer operations, says Päivi Koivisto, Vice President, Sustainability at Cargotec. "So, we take into account the full lifecycle of the product, and then we compare that to an alternative solution, and then if we see that the carbon footprint is lower, then the difference is the carbon handprint."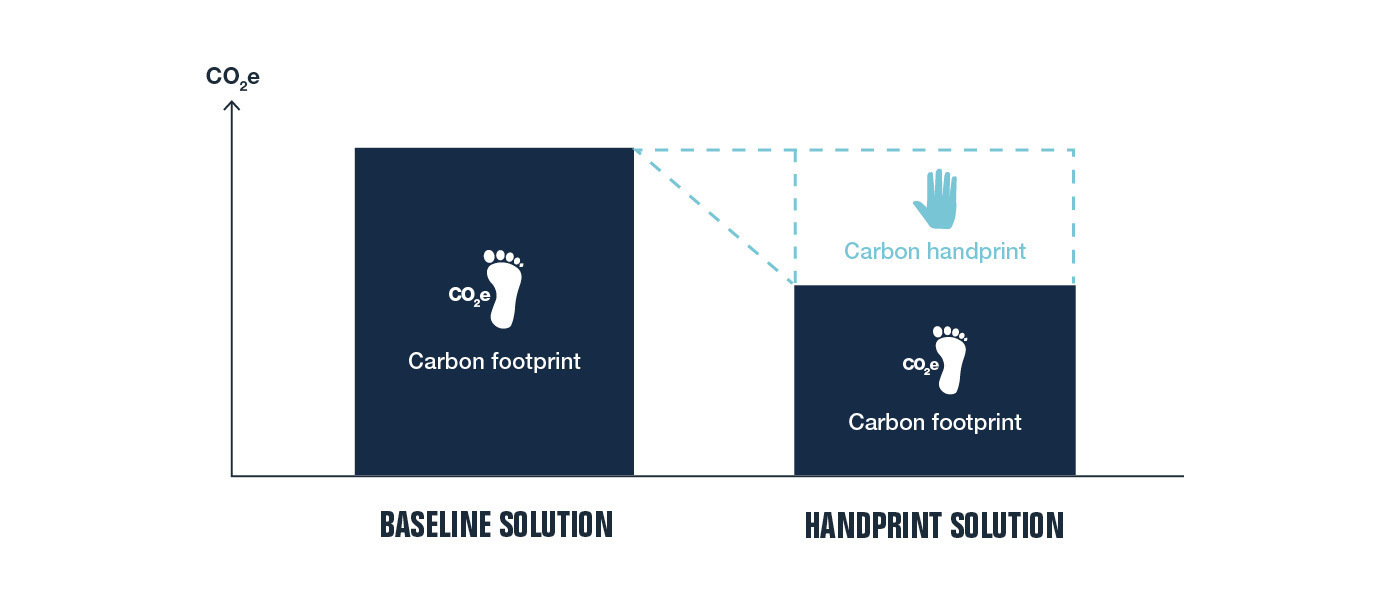 Absolute contraction boosts Cargotec's positive impact

Measuring carbon handprint builds on the work Cargotec has done to scientifically validate its climate goals. As part of the global shift towards a low-carbon economy, more and more companies are validating their goals via the Science Based Targets initiative (SBTi), which approved Cargotec's climate goal in August 2020.

One of the methods endorsed by the SBTi is the absolute contraction method, which Cargotec has chosen to implement. "We have set science-based targets which allow us to align our emission reduction targets with the carbon budget. We're using absolute contraction, which means that all companies reduce their emissions at the same linear rate so that it's the same percentage reduction in absolute emissions annually," says Jukkola.

Cargotec opted for this approach over others to maximise its positive impact on the environment.

"One of the alternatives we could have used was an intensity-based approach. That method would be a good fit for sectors such as steelmaking because the processes there are so similar between the different companies. Cargotec manufactures products that aren't so standardised, and so we could make more of a difference with the absolute contraction method," shares Koivisto.

One of the limitations of using an intensity-based method is a lack of control over absolute emissions. Even if a company's emissions intensity is decreasing, if its sales are increasing at the same time, then there is the possibility that its absolute emissions are also still increasing.

The absolute contraction method allows for a greater positive impact on the environment and stops increased sales from being a limiting factor when thinking about sustainability decisions.

"From a planetary boundaries viewpoint or the carbon budget viewpoint, the intensity-based method might not be enough. Absolute is absolute. It's more difficult to implement, but ultimately better for the planet. We need to enable a low-carbon society, but we still need to be a profitable company. If we just sell less, that's not the right solution," says Koivisto.

Focusing on the positives is more productive

Not only is the reduction of emissions itself not enough but focusing on a negative metric can actually be counterproductive. The key advantage of the carbon handprint concept is that it does not act like a limit. If the idea behind the carbon footprint is to shrink it as much as possible, the idea behind the carbon handprint is to grow it as much as possible.

"Just like the planetary boundaries and the carbon budget, paying attention only to your carbon footprint is, in a way, itself a boundary. If we want to grow, we need to find emission-free ways to do it, and the handprint becomes more motivating because it focuses on the positive side instead of the negative side," explains Koivisto.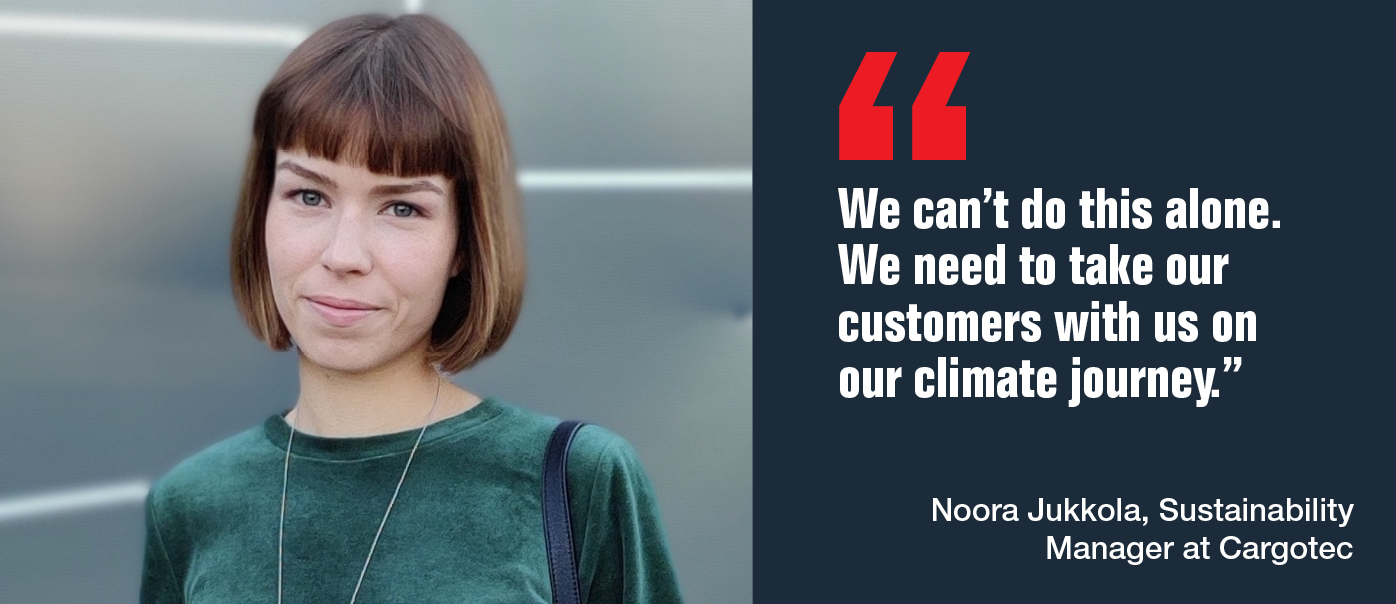 The next step in Cargotec's climate journey

Cargotec is in the midst of pursuing its climate goal. In order to get there, the company needs to continue to place sustainability at the core of its decision-making to be able to innovate low-carbon products and services. At the same time, there is no sustainable Cargotec if there is no profitable Cargotec.

The carbon handprint is the next step along that journey.

"We can't do this alone. We need to take our customers with us on our climate journey. To do that, we need to show why it makes sense to buy low-carbon products instead of diesel-driven ones, for example, and we need to convince our suppliers that they should continue to look at their footprint. They have to have their own targets and innovation in order to reduce the footprint," says Jukkola.

"We're talking about the emissions of our suppliers and our customers. Enabling isn't enough, the offering itself isn't enough—we need to work hard on achieving our goal to become a profitable, sustainable 1.5°C organisation," says Koivisto.